Georgian Prosecutor General's Office brings new charges against Mikheil Saakashvili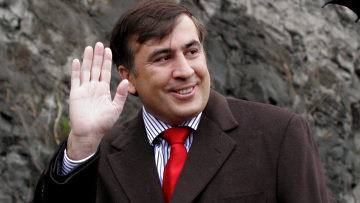 13:25 05/08/2014
TBILISI, August 5 (RAPSI) - Georgia's Main Prosecutor General's Office has brought new criminal charges against former president Mikheil Saakashvili and former prime minister Vano Merabishvili, NewsGeorgia reports.
"Mikheil Saakashvili and Vano Merabishvili are being held liable for abuse of power," the prosecutor's statement says. The charges are related to an assault on Valery Gelashvili, a member of the Georgian parliament, in 2005.
The Georgian Minister of Justice, Teya Tsulukiani, has not ruled out placing the ex-president on the international wanted list.
On the night of August 2, the Tbilisi City Court ordered Saakashvili, former minister of justice Zurab Adeishvili, and former defense minister David Kezerashvili to be held in pre-trial detention. They are involved in a case on the forceful discharge of an opposition rally on November 7, 2007, the storming of the Imedi television company and the seizing of property belonging to the TV company's founder, Badri Patarkatsishvili.