Criminal case opened against Georgian ex-president Saakashvili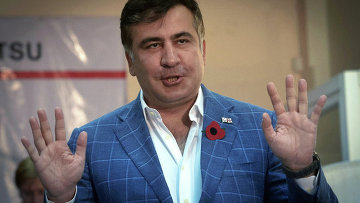 14:56 28/07/2014
TBILISI, July 28 (RAPSI) - A criminal case has been opened against former Georgian president Mikheil Saakashvili, who failed to show up for questioning as a witness to the Georgian chief prosecutor's office.
Saakashvili left Georgia immediately after the inauguration of the new president last November and has not returned to his home country since. In late 2013, he moved to the US where he took up a teaching position. However, over the past few months, he has regularly visited Kiev to give informal consultations to local officials.
In March, the prosecutor's office summoned Saakashvili to an interview saying that the interview would concern ten cases, including the death of prime minister Zurab Zhvania in 2005, the 2006 pardon of the convicts in the high-profile murder of Sandro Girgvliani (an employee of United Bank of Georgia), and the suppressing of a riot in a Georgian Armed Forces squadron in Mukhrovani in 2009. The ex-president refused to go to Tbilisi claiming that the prosecutor's office was "playing dirty political games."
This time, the chief Georgian prosecutor's office invited consultants including US, British and Israeli lawyers who are experienced in cases against heads of states.