Mikheil Saakashvili charged with abuse of power in absentia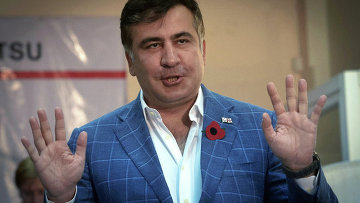 12:29 29/07/2014
TBILISI, July 29 (RAPSI) - Ex-president of Georgia Mikheil Saakashvili has been charged with excessive use of power in relation to a case that involves the dispersion of an opposition rally and the raid of television broadcaster Imedi, Newsgeorgia reports citing attorney Otar Kakhidze.
Yesterday the Chief Prosecutor's Office of Georgia brought criminal charges against Saakashvili in a case that includes charges of dispersing an opposition rally in November 2007, the raid of television broadcaster Imedi, plus the seizure of billionaire Badri Patarkatsishvili's property. The case was opened on Article 333 Part 3 of the Criminal Code of Georgia on excessive use of power, use of violence or a weapon, and the breach of the dignity of a victim.
Saakashvili left Georgia immediately after the inauguration of the new president last November and has not returned to his home country since. In late 2013, he moved to the US where he took up a teaching position. However, over the past few months, he has regularly visited Kiev to give informal consultations to local officials.