Georgia may place ex-president Saakashvili on international wanted list – report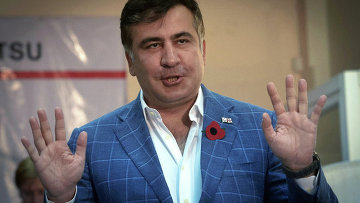 13:58 24/03/2014
TBILISI, March 24 (RAPSI) - Former Georgian president Mikheil Saakashvili will be placed on an international wanted list if he continues to ignore subpoenas for his questioning in a number of cases, Prime Minister Irakli Garibashvili said in an interview with Tbilisi newspaper Kviris Palitra.
Georgia's Prosecutor General's Office intends to question Saakashvili over the 2005 death of former Georgian prime minister Zurab Zhvania.
Prosecutors further seek to question him over pardons granted to the men convicted of the 2006 murder of Sandro Girgvliani, an employee of the United Bank of Georgia.
Another case is pending in connection with a special operation aimed at repressing an attempted mutiny at the Mukhrovani Military Base in 2009.
Saakashvili was summoned for questioning on March 27, but refused to participate.
His presidential term ended in 2013. In November, he left for the US and is engaged in teaching activities. It was revealed in December that he would join The Fletcher School of Law and Diplomacy at Tufts University as Senior Statesman. Presently, Saakashvili is in the Netherlands.