Ukraine refuses to extradite Georgian ex-president Saakashvili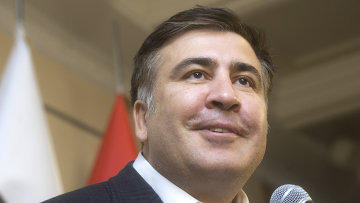 15:27 01/04/2015
KIEV, April 1 (RAPSI) – Ukraine will not extradite former President of Georgia Mikheil Saakashvili because charges against him are politically motivated, the Ukrainian Prosecutor-General's office said in a statement on its website.
Following a review of the request, the Ukrainian Prosecutor General's Office has concluded that Georgia requested Saakashvili's extradition for political reasons and that his potential extradition would contradict the 1950 Convention for the Protection of Human Rights and Fundamental Freedoms, according to the statement.
The Ukrainian regulator said it had notified Georgia of its decision.
In February, the Georgian Chief Prosecutor's Office sent the Ukrainian Prosecutor General one more request for the arrest and extradition of Saakashvili as it did not receive an official response to the first request from Ukraine.
Ukraine also recently refused to extradite former Georgian Justice Zurab Adeishvili.
On February 14, Ukrainian President Petro Poroshenko signed an executive order appointing Saakashvili as a "non-staff adviser" and chairman of the presidential Advisory International Council of Reforms.
Saakashvili left Georgia immediately after the inauguration of a new president in November 2013 and has not returned to his home country since. In late 2013, he moved to the US where he took up teaching. However, over the past few months, he has regularly visited Kiev to give informal consultations to local officials.
Saakashvili was charged last July with dispersing an opposition rally in November 2007, the raid of television station Imedi, and the seizure of billionaire Badri Patarkatsishvili's assets. Saakashvili stands accused of abuse of office, use of violence, and breach of human dignity.
He was also charged in another criminal case with masterminding an armed attack on a member of parliament, and the embezzlement of about $5 million.
Adeishvili and former defense minister David Kezerashvili were also charged with abuse of office.
A court in Tbilisi issued an arrest warrant for Saakashvili, Adeishvili, and Kezerashvili on August 2, 2014.