Saakashvili charged with complicity in murder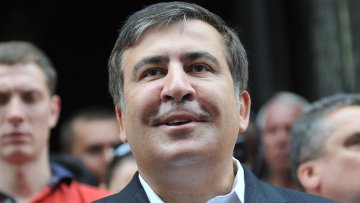 14:46 27/11/2014
MOSCOW, November 27 (RAPSI) – The Georgian Prosecutor General's Office has charged former President Mikheil Saakashvili with complicity in the murder of Sandro Girgvliani, an employee of the United Bank of Georgia, in 2006, RIA Novosti reported on Thursday, citing the prosecutor's office statement.
According to prosecutors, the investigation was launched on the recommendation of the European Court of Human Rights.
The statement says that "concealment of the crime committed against Alexander "Sandro" Girgvliani, the simulation of investigation and attempts to prevent the punishment of high-ranking officials were part of a coordinated plan implemented by then Interior Minister Vano Merabishvili, Director of the Interior Ministry's Constitutional Security Department David Akhalaia, Head of the Penal Department Bachana Akhalaia, the Prosecutor General's Office and former President of Georgia Mikheil Saakashvili."
The investigation is being conducted under criminal code articles on abuse of office. Punishment under these articles ranges between three and five years' imprisonment.
Sandro Girgvliani was found dead in the Okrokana Cemetery in a Tbilisi suburb on January 28, 2006, after a quarrel with unidentified Interior Ministry officials in a bar the night before. One of the suspects, former Deputy Head of the Constitutional Security Department Oleg Melnikov, said that President Saakashvili knew about details of the Girgvliani murder.
The Prosecutor General's Office of Georgia charged Saakashvili in absentia under three cases: embezzlement of about $5 million government funds for personal use, abuse of office in ordering the dispersal of a demonstration on November 7, 2007, and the beating of MP Valery Gelashvili in July 2005.