Property of ex-president Saakashvili seized in Georgia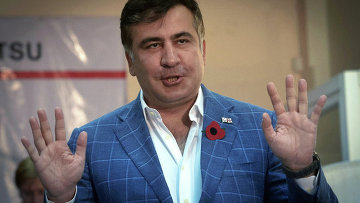 17:11 19/09/2014
MOSCOW, September 19 (RAPSI) – The Chief Prosecutor's Office of Georgia has issued an order of seizure for the property of former President Mikheil Saakashvili and his family, RIA Novosti announced on Friday, citing the ex-president's attorney.
Otar Kakhidze said the warrant includes Saakashvili's house and land in Kvareli, Kakhetia and the other houses and vehicles the former president, his wife and mother own.
"The order provides no explanation for the reasons for the seizure," the attorney told journalists.
He said he would file a petition to overturn the order at the Strasbourg court.
Earlier, the Chief Prosecutor's Office brought criminal charges against Saakashvili under a case on the dispersal of an opposition rally in November 2007, the raid of Imedi television station offices and the seizure of billionaire Badri Patarkatsishvili's property. The case was opened under Article 333 of the Criminal Code of Georgia on abuse of power, use of violence or a weapon, and the breach of the dignity of a victim.
On August 2, 2014, the Tbilisi City Court issued an arrest warrant in absentia for Saakashvili.
On August 5, the Chief Prosecutor's Office brought criminal charges against Saakashvili and former Prime Minister Vano Merabishvili regarding the attack against MP Valery Gelashvili in 2005.
Saakashvili left Georgia immediately after the inauguration of the new president in November 2013 and subsequently moved to the US, where he took up teaching. However, over the past few months, he has regularly visited Kiev to give informal consultations to local officials amid the ongoing crisis.