Ukraine refuses to extradite Saakashvili, Adeishvili to Georgia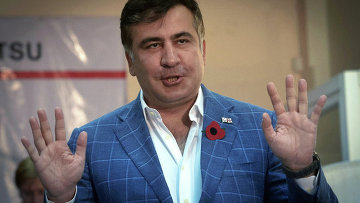 18:07 17/02/2015
TBILISI, February 17 (RAPSI) – Ukraine will not extradite former Georgian president Mikhail Saakashvili and former prosecutor general Zurab Adeishvili implicated in several criminal cases, Prosecutor's Office of Georgia announced on Tuesday.
Criminal charges were brought against Saakashvili last July in connection with the dispersal of an opposition rally in November 2007, the raid of television station Imedi, and the seizure of assets owned by billionaire Badri Patarkatsishvili. Saakashvili stands accused of abuse of office, use of violence, and breach of human dignity.
He was also charged in another criminal case with masterminding an armed attack on member of parliament, embezzlement of about $5 million.
Adeishvili and former defense minister David Kezerashvili were also charged with abuse of office.
A court in Tbilisi issued on August 2, 2014, an arrest warrant for Saakashvili, Adeishvili, and Kezerashvili.
Saakashvili left Georgia immediately after the inauguration of a new president in November 2013 and has not returned to his home country since. In late 2013, he moved to the US where he took up teaching. However, over the past few months, he has regularly visited Kiev to give informal consultations to local officials.
Saakashvili was appointed on February 14 an aide to the Ukrainian president to help the country on its path to reform.