Breivik interrogation transcript disappears from police station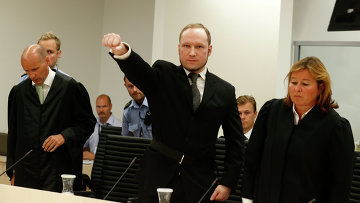 15:21 25/04/2014
MURMANSK, April 25 (RAPSI) - The transcript of one of the longest and most emotional interrogations of Anders Breivik, a terrorist sentenced to 21 years in prison for killing 77 people in July 2011, has mysteriously disappeared from a locked office in an Oslo police station, the Norwegian media report Friday.
The records disappeared in August 2011, but this was made public only now. A special police taskforce is investigating.
"The incident, which could have criminal implications, probably involves police officers," the head of the special department Jan Egil Presthus told the media. Breivik's lawyers knew nothing of the loss of this important document. "We were never informed. We are unhappy that the theft of a 42-page transcript of an interrogation of our client was not disclosed earlier," Breivik's attorney Geir Lippestad said.
According to media reports, the interrogation concerned the number of explosive devices planted by Breivik, possible accomplices and security measures. "It was one of the key interviews held on August 9, 2011," NRK reports. The document was evidently stolen from a locked office on the night of August 24, 2011.
On July 22, 2011, Breivik set off an explosive device near the main government building in Oslo, killing eight people. He also killed 69 people in a deadly shooting spree at a Labor Party youth camp on the island of Utoya. He was sentenced to 21 years in prison.