Breivik renounces inheritance to avoid paying compensation to victims' families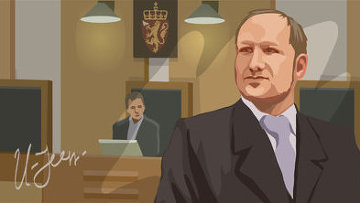 17:20 11/06/2013
MOSCOW, June 11 (RAPSI) - Norwegian mass murderer Anders Breivik has renounced his inheritance from his mother, which could have been confiscated by the state and used as compensation for the families of those who were killed or injured during the 2001 Utoya island massacre, Agence France-Presse reported on Tuesday.
Breivik's attorney Tord Jordet has confirmed that his client made the decision in order to prevent his inheritance from going to the state. Breivik's mother passed away in March.
After Breivik renounced the inheritance, the rights to his mother's assets passed to his stepsister. The exact amount of the inheritance is unknown, but according to media, his mothers apartment was put up for sale for 3.7 million kroner, or $642,000, on Tuesday.
On July 22, 2011, Breivik set off an explosive near the main government building in Oslo, killing eight people. He also killed 69 people in a deadly shooting spree at a Labor Party youth camp on the island of Utoya. He was sentenced to 21 years in prison.