Norwegian mass killer Breivik asks to attend mother's funeral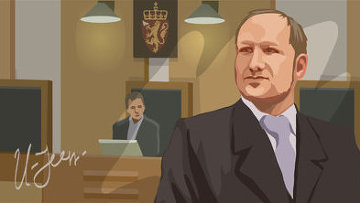 08:52 25/03/2013
MOSCOW, March 25 - RAPSI. Norwegian shooter Anders Breivik, who was sentenced to the maximum 21 years prison term for terrorism and the murder of over 70 people, has asked for permission to attend the funeral of his mother, Sky News TV channel reported on Sunday.
Breivik's mother, Wenche Behring Breivik, is reported to have died on Friday at the age of 66 after suffering a long illness.
According to Sky News, Breivik and his mother met earlier this month at Ila Prison where the convicted killer is being held. They said goodbye to each other then.
"He was allowed to say goodbye. They both knew it would be the final meeting. I spoke to him this morning. He was grieving. It was very sad news to him," Breivik's lawyer Tord Jordet told the TV channel, adding now it was up to the prison board to decide on whether to allow the mass murderer to attend his mother's funeral.
On 22 July 2011, Breivik bombed government buildings in Oslo, which resulted in eight deaths. He then opened fire at a youth camp of the ruling Labor party on Uteyya Island, killing 69 people.