Kazakhstan set on extraditing ex-banker Ablyazov - prosecutors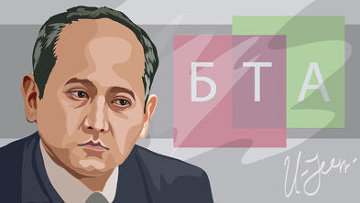 12:07 06/08/2013
ASTANA, August 6 (RIA Novosti) – Kazakhstan will use all legal means to return fugitive banker and former minister Mukhtar Ablyazov to his home country, following his arrest in France last week, prosecutors said on Tuesday.
Ablyazov is wanted in Russia and Ukraine as well as Kazakhstan, on suspicion of embezzling billions of dollars from the now-defunct BTA bank, money laundering and involvement in a criminal group. France is currently considering an extradition request for him from Ukraine.
"Kazakhstan's Prosecutor General's Office is doing everything possible to return Ablyazov to Kazakhstan. All possible means will be used," Kazakhstan's prosecutors office spokesman Nardaulet Suindikov said Tuesday. "France is to make the final decision. We are determined to get him back to Kazakhstan," he added.
Kazakhstan has no extradition agreement with France. Suindikov said the Kazakhstan authorities have nonetheless submitted an extradition request for Ablyazov, but did not elaborate.
Kazakhstan may decide to seek his extradition from Ukraine. A lawyer retained by Ablyazov's wife as spokesman told the Financial Times he had been told by Ablyazov's lawyers in France that the extradition request made by Ukraine had been made at the request of Kazakhstan.
Ablyazov's lawyer Bruno Rebstock was quoted last week by AFP as saying his client was "in fighting mode and determined," to fight extradition.
Ablyazov, 50, fled his home country in 2009 after Kazakhstan prosecutors accused him of money laundering and fraud, and issued a warrant for his arrest. He initially went to Britain, where he was granted political asylum in 2011. Ablyazov was sentenced by a London High Court judge in February 2012 to 22 months in prison for contempt of court but fled the country.
Ablyazov's wife and daughter were deported to Kazakhstan from Italy in July, Reuters reported, prompting calls for the resignation of the Italian interior minister.
According to Kazakhstan prosecutors, Ablyazov's activities are also under investigation by the law enforcement authorities of Cyprus, Finland, Hungary, Ireland, and Latvia.