Fake Kyrgyz passport was issued to fugitive ex-head of BTA Bank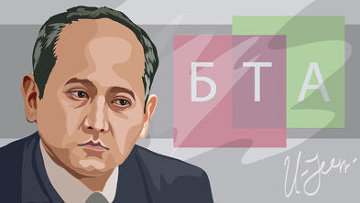 10:43 02/07/2013
BISHKEK, July 2 (RAPSI) - The State National Security Committee of Kyrgyzstan has officially confirmed that a Kyrgyz passport was illegally issued to Mukhtar Ablyazov, a Kazakh billionaire and former board chairman of BTA Bank who is wanted for embezzlement.
The Kyrgyz economic crimes service earlier reported that they had exposed an illegal network that manufactured fake documents, including university diplomas. As many as 122 fake seals and official stamps of Kyrgyzstan, Kazakhstan and Russia have been confiscated from one of the suspects in the case.
It has been established that one of the fake Kyrgyz passports was issued to a person named Nurdin Osmonov, but the man in the photograph looks very much like Ablyazov, who is wanted by the law enforcement authorities of Kazakhstan, Russia and Ukraine.
The Kyrgyz authorities are investigating this case.
Kazakhstan is seeking the extradition of Ablyazov, who fled to the UK after the Kazakh government acquired a stake in BTA in 2009 and the bank came under the control of its sovereign wealth fund Samruk-Kazyna.
Ablyazov was granted political asylum in Britain in 2011.
In 2009, BTA filed a suit on the alleged embezzlement of $6 billion by its former top managers in the London High Court. In May 2011, the court accepted the bank's complaints against former board chairman Mukhtar Ablyazov. In February 2012, it ruled in absentia to detain Ablyazov for 22 months for contempt of court and deprived him of the right to defend his interests.
Ablyazov has since disappeared and is believed to have fled the UK.
He maintains that the charges against him are politically motivated and refuses to disclose his whereabouts.