Navalny's professional qualifications are a sham - Russian investigators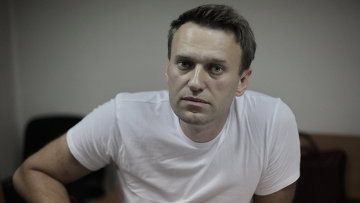 13:38 27/02/2013
MOSCOW, February 27 - RAPSI. Opposition leader Alexei Navalny, who is being investigated in connection with several embezzlement cases, attained his professional qualifications as a lawyer illegitimately, Investigative Committee spokesman Vladimir Markin tweeted, citing an official investigation.
According to the Investigative Committee, Navalny was summoned for an interview today as part of a high-profile embezzlement case. He was also asked how he had attained his status as a lawyer. Navalny, however, refused to talk.
According to the law, the status of a lawyer is granted only after two years employment with a law office.
The committee said that Navalny submitted a certified note to the Kirov Region Bar Association which stated that he had been deputy director general for legal matters at the Allekt retail trade firm for several years. However, Navalny was also the firm's director general.
The investigation has concluded that the documents provided by Navalny to prove his service record as a lawyer are unreliable.
The Investigative Committee announced in December 2012 that Allekt, where Navalny was the chief executive, is believed to have been involved in the embezzlement of millions of rubles allocated by the Union of Right Forces neoliberal party.
The investigators claim that Allekt transferred around 100 million rubles ($3.3 million), which it received in accordance with an advertising contact signed in April 2007, to the accounts of companies which were predominantly fly-by-night firms.
The high-profile Kirovles logging company embezzlement case was initiated in 2011. Investigators believe that Navalny, who at the time served as an adviser to the Kirov Region Governor, plotted the embezzlement of Kirovles property.
It is believed that over 10,000 cubic meters of Kirovles timber products were embezzled from May to September 2009, leading to regional budgetary losses of 16 million rubles (around $500,000).
Vyacheslav Opalyov, Kirovles CEO and one of the defendants in the case, was acquitted in December 2012.
Another case against Navalny was initiated in December. He and his brother are charged with embezzling over 55 million rubles ($1.8 million) from a trade firm.