Opposition activist Alexei Navalny faces another embezzlement probe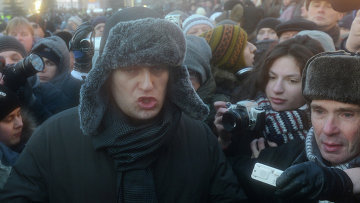 13:19 24/12/2012
MOSCOW, December 24 – RAPSI. Allectus, a company previously headed by anti-corruption and opposition activist Alexei Navalny, is suspected of defrauding a rightist political party of 100 million rubles ($3.25 million), Vladimir Markin, the Investigative Committee's official spokesperson, told journalists on Monday.
"Investigators found that in April 2007 the Union of Rightist Forces (SPS) had signed a contract for advertizing services with Allectus. A total of about 100 million rubles ($3.25 million) were transferred to the company's account. Allectus, in turn, moved the funds to other companies, most of which looked like fly-by-night businesses," Markin said.
No documents were submitted to the investigators to prove that the contract has been accomplished, Markin said.
Navalny is already involved in a criminal case, initiated in 2011, over the embezzlement from Kirovles logging company. It is Navalny's activity as advisor to the Kirov Region Governor that attracted investigators' special interest.
Investigators said that the blogger had convinced Kirovles' management to sign a disadvantageous contract for timber products. Navalny is suspected of causing damages through deceit or abuse of trust, punishable by up to five years in prison.
On both cases, Navalny has been released under a pledge not to leave town.