Ex-Ukrainian pilot Savchenko to remain in Russian detention until September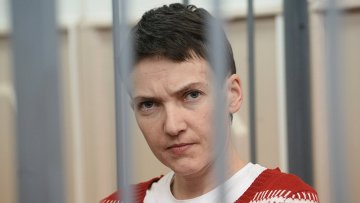 12:34 10/06/2015
MOSCOW, June 10 (RAPSI) – The Moscow City Court extended the detention of ex-Ukrainian military pilot Nadezhda Savchenko who stands charged with complicity in the murder of two Russian journalists, until September 30, RAPSI reported from the courtroom on Wednesday.
Judge Pavel Melekhin ruled that Savchenko still may abscond during the investigation or trial as well as issue threats against witnesses and victims if released. He also said that Savchenko was granted a diplomatic status several months after the charges were brought against her.
Savchenko was arrested in Russia last summer on charges of complicity in the murder of two Russian TV journalists during hostilities in Donbas and on illegally crossing the border into Russia.
TV correspondent Igor Kornelyuk and sound engineer Anton Voloshin were killed on June 17 in a mortar attack.
Earlier, the Russian Investigative Committee singled out Savchenko's case from a larger case of war crimes in Donbas and finished its investigation.
Savchenko denies the charges and claims that her detention was illegal.
Her attorneys also believe that the case was fabricated and there is no evidence of Savchenko's involvement in the murder of the journalists. They also claim she did not cross the border voluntarily but was kidnapped.
The defense also states that the defendant is a PACE delegate and, therefore, has absolute immunity. However, the court earlier granted the prosecutor's claim that Savchenko's immunity does not cover her actions before she received this status in the assembly and that she committed the crimes before the election.