Ukraine opens criminal case against Russian officials over Savchenko's detention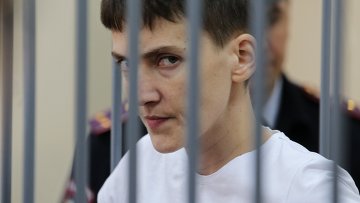 11:42 03/06/2015
MOSCOW, June 3 (RAPSI) - Ukraine's state security service (SBU) announced on Wednesday that a criminal case had been opened against Russian officials in connection with the detention of ex-Ukrainian military pilot Nadezhda Savchenko.
The names of the Russian officials have not been disclosed.
Savchenko was arrested in Russia last summer on charges of complicity in the murder of two Russian TV journalists during hostilities in Donbas and on illegally crossing the border into Russia.
TV correspondent Igor Kornelyuk and sound engineer Anton Voloshin were killed on June 17 in a mortar attack.
Earlier, the Russian Investigative Committee singled out Savchenko's case from a larger case of war crimes in Donbas and finished its investigation. Her detention was extended until June 30.
Savchenko denies the charges and claims that her detention was illegal.
Her attorneys also believe that the case was fabricated and there is no evidence of Savchenko's involvement in the murder of the journalists. They also claim she did not cross the border voluntarily but was kidnapped.