Ex-Ukrainian pilot Savchenko charged with complicity in murder moved to hospital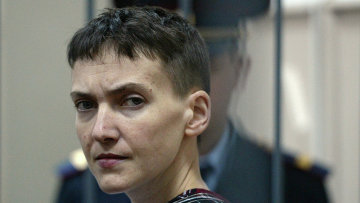 17:32 28/04/2015
MOSCOW, April 28 (RAPSI) – Ex-Ukrainian military pilot Nadezhda Savchenko who stands charged with complicity in the murder of two Russian journalists has been transferred from a pre-trial detention center to a Moscow hospital, RIA Novosti reported on Tuesday, citing the Federal Penitentiary Service spokesperson Kristina Belousova.
Savchenko went on hunger strike in mid-December in a protest against her prosecution. She ended an 83-day hunger strike in March but renewed it soon afterwards.
Russia's prison authorities confirmed the deterioration in Savchenko's condition.
The head of the Presidential Council on Human Rights, Mikhail Fedotov, visited Savchenko on Monday and confirmed that she had lost more than 8 kilograms over the last week alone.
She was arrested in Russia last summer on charges of complicity in the murder of Russian TV journalists during hostilities in Donbas and on illegally crossing the border into Russia.
Although Savchenko denies the allegations and claims that she was kidnapped in Ukraine and forcibly transported to Russia, her detention was extended until May 13.