Sakhalin governor charged with corruption appeals against detention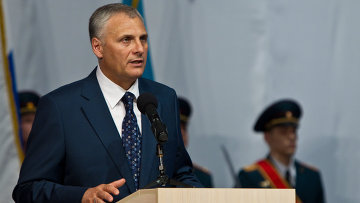 11:12 20/03/2015
MOSCOW, March 20 (RAPSI) - Sakhalin Governor Alexander Khoroshavin charged with taking a $5.6-million bribe has filed an appeal against his detention, press secretary for Moscow's Basmanny District Court Anna Fadeyeva told RAPSI on Friday.
The hearing date will be set later, Fadeyeva said.
Official charges against Khoroshavin were brought on March 13.
The Investigative Committee announced earlier that $16.4 million in cash, numerous pieces of jewelry and a $600,000 writing pen had been seized from residences of Khoroshavin.
The governor was arrested in Sakhalin and later taken to Moscow. Moscow's Basmanny District Court on March 4 ruled to detain him until April 27.
On March 18, the court seized Khoroshavin's accounts in several banks including Sberbank, Gazprombank, Bank of Moscow and VTB Bank.
After Khoroshavin's arrest investigators received a number of reports on alleged violations during his term as the governor, according to Investigative Committee spokesperson Vladimir Markin.