Governor Alexander Khoroshavin, accomplice officially charged in corruption sting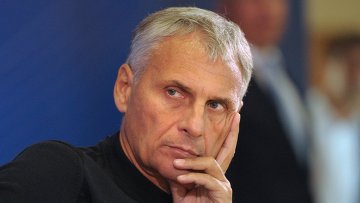 16:12 13/03/2015
MOSCOW, March 13 (RAPSI) - Investigators have charged Sakhalin Governor Alexander Khoroshavin with taking a $5.6-million bribe, while his accomplice Andrei Ikramov stands charged with being involved in a bribery scheme, Investigative Committee spokesperson Vladimir Markin said on Friday.
"The official total income of the governor's family over the past four years – when the most property was purchased – did not exceed 50 million rubles ($813,000) although the value of the property and confiscated valuables exceeds that amount by many times. One of the possible scenarios is that he received regular kickbacks from companies and institutions in the region," Markin said.
The Investigative Committee announced earlier that $16.4 million in cash, numerous pieces of jewelry and a $600,000 writing pen had been seized from residences of Khoroshavin.
The governor was arrested in Sakhalin and later taken to Moscow.
Moscow's Basmanny District Court on March 4 ruled to detain him until April 27.
After Khoroshavin's arrest investigators received a number of reports on alleged violations during his term as the governor, according to Markin.