Opposition whistleblower Alexei Navalny on trial. Day 5 – live coverage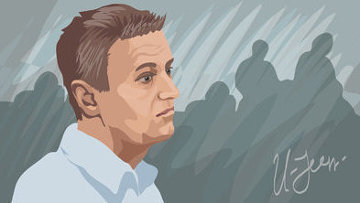 16:45 14/05/2013
MOSCOW, May 14 (RAPSI) - Embezzlement proceedings are carrying on Wednesday against Russian opposition blogger Alexei Navalny and RAPSI is on-hand to provide the very latest on the drama as it unfolds in the courtroom via a live text broadcast.
The hearing is underway in the Leninsky District Court in the town of Kirov.
Broadcast
15:00 Well, that's all of our witnesses for today. Let's all go enjoy our evenings and we look forward to seeing you back here bright and early tomorrow morning, at 9am Moscow time. Our broadcast will begin at 8:50. Thanks for joining us and we look forward to seeing you again tomorrow for another action-packed day of coverage of the timber embezzlement trial of the century!
14:57 He recalls not having had much of a choice in terms of cooperating with VLK at the time, although this cooperation was not obligatory for all intents and purposes. While he could have stopped cooperating at any time, the cooperation was at least somewhat beneficial.
14:53 When the judge asks whether he's familiar with VLK he states the obvious - that he's heard of them by now. The courtroom erupts into laughter.
14:51 Our next witness is Nikolai Kolchin, who heads up timber company Yaransky. He claims that he does not know Navalny and has never seen Ofitserov.
New witness
14:48 When asked whether it would be more profitable to sell timber at slightly reduced rates, or to let it rot, Zentsov answers "Of course, to sell." And he has been released from the stand.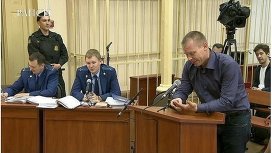 © RAPSI
Alexander Zentsov, head of the timber company Malmyzhsky
14:45 Zentsov is only able to provide so many answers due to the fact that he personally didn't work with VLK. He can't answer the judge's questions about the profitability of working with VLK. He can't remember....
14:43 When asked whether he's familiar with Navalny and Ofitserov, Zentsov retorts that obviously he's familiar- they're shown on TV.
14:41 Litvinenko has been set free. Now onto Alexander Zentsov, head of the timber company Malmyzhsky.
New witness
14:38 When asked to explain how his cooperation with VLK had been classified at once as both profitable and neutral, Litvinenko found himself at a loss for words. He began to think for such a long time that he just couldn't take on any more questions.
14:35 Davidova has requested permission to read Litvinenko's written testimony aloud, asserting inconsistencies between it and his oral testimony.
14:30 Navalny asks Litvinenko to give a personal opinion on cooperation with VLK. After a five second pause, Litvinenko characterizes the relationship as: "probably more neutral."
© RAPSI
Next to the stand: Gennady Litivinenko
14:29 In a nut shell, Litvinenko doesn't remember anything.
14:24 Litvinenko echoes the sentiments of his colleagues who had noted the financial crisis of 2009. As for the rest of the time, things weren't bad.
14:20 Litvinenko distinguishes himself from the other witnesses by maintaining a two-second pause before answering each question.
14:18 And that's all for Beleglazov. Next to the stand: Gennady Litivinenko, who headed up timber company Yuryansky.
New witness
14:16 Navalny inquires whether cooperation with VLK once stood out from the standard list of cooperations, Beloglazov answers that while he doesn't remember specifically, he does recall some level of significance.
© RAPSI
Alexei Beloglazov, chief of timber company Luzsky
14:14 Navalny follows this line of questioning, asking whether he or anyone else had discussed VLK or other companies on an informal basis with Beloglazov, who responds "no."
14:11 Navalny explains that Luzsky is one of the few timber companies that he's been to, and asks for Beloglazov's acknowledgement of such.
14:09 And more of the same: as established - low prices, familiarity of the witness with VLK, Navalny, and Ofitserov.
14:07 After those tense moments, Kozlov has been set free. Taking the stand is Alexei Beloglazov, chief of timber company Luzsky.
New witness
14:03 The judge is bewildered and Kozlov doesn't seem to be able to come up with the answers.
14:02 The dates generally don't add up either. Kozlov suggests that perhaps the invoices were drawn up after the deliveries were completed.
© RAPSI
Ruslan Kozlov, another witness in Kirovles embezzlement case
14:01 The documents are in a state of chaos. For one transaction there are two invoices - one for 18,000 rubles and the other for 45,000. When the judge asks how this is possible, Kozlov is unable to answer.
13:56 Kozlov claims that he hadn't seen the agreement - rather that he was familiar with the pricing structure at the time.
13:55 The witness examines the papers spread out across the judge's table to confirm their authenticity.
13:51 The defense team requests permission to show Kozlov several documents relating to past transactions, including an invoice for a timber supply contract with VLK.
13:50 Navalny clarifies that the price suited Kozlov, asking whether the problem was that the parent company specifically required either the sale or transaction with VLK.
13:38 Now Ofitserov asks questions. He wants to know what role VLK played. Almost all of the witnesses who have been called have explained that the VLK shipments were really low.
13:31 Kozlov says he got a phone call in 2009 from Sergey Makoveev, Kirovles top manager, who told him that some contract was about to be breached. According to Kozlov, the company receive less profits as a result, but he failed to name the exact sum.
13:27 Ruslan Kozlov is next. In 2009 he was the head of the Orichevsky timber company. He doesn't know Navalny, but he is acquainted with Ofitserov. His company worked with VLK as well.
New witness
13:25 Five more witnesses are waiting to be called.
13:20 And we're getting ready to jump back into action
12:32 Buzmak has been released from the stand. The court will now take a 45-minute break as we prepare for the next witness.... our 20th witness, for the record. We will reconvene at 13:15 Moscow time. See you in a bit!
12:30 Ofitserov's lawyer Davydova asks Buzmak whether he provided any documents during the investigation of the case. He responds that he did so only in the case of Opalyov, who was acquitted in December, 2012.
© RAPSI
Anatoly Buzmak is another witness in the case
12:28 Navalny asks Buzmak whether VLK in fact offered the best bargain in 2009. Buzmak replies, "Right now I don't remember exactly. Today I live a different life; I'm not interested in it." To which Navalny replies rather philosophically, "We all live different lives than in 2009."
12:24 Navalny begins by asking whether the judge and the witness know each other. He first asks the judge - noting that it's a small town. The judge tells him to ask the witness, who in turn acknowledges that he and the judge do know each other. When Navalny asks whether the two of them have discussed the present case, the witness replies, "Of course not."
12:22 The prosecutors sped through their questions for Buzmak, and the torch has been passed to Navalny.
12:20 Bulatov was released from the stand, having been replaced by Anatoly Buzmak - who in 2009 served as director of timber company Kuzmensky. His company worked with VLK as well.
New witness
12:16 Navalny continues with this line of questioning, asking whether the witness had received any instructions with regard to how to proceed with selling timber at a lower price. Bulatov says he had not received any such instructions.
12:14 Navalny asks whether the price set in the contract was understated, or whether the company was simply underpaid by 50%.
12:12 Navalny has taken it upon himself to try to make it all make sense.
12:09 Judge Blinov asks Bulatov why his written and oral testimonies differ with regard to the average market price of timber. While the written testimony maintained that the pricing was ok, his oral testimony contends that VLK understated the price by 50%.
12:08 Navalny asks whether Bulatov has been pressured by law enforcement officials, to which the latter responds, "No, no, no."
12:06 Judge Blinov reprimands Ofitserov for pressuring the witness and putting words in his mouth.
12:05 Bulatov and Ofitserov are engaged in an all-out (albeit verbal) brawl. Ofitserov insists that the documents weren't clear - particularly with regard to the source of inflow. Bulatov counters at first, but then gives up the fight - citing a lack of memory. Something must have been in the water that year in Kirov.
12:00 Bulatov admits that the payments between VLK and Kirovles are documented.
11:53 He adds that it would have proved unreasonable to carry on business with VLK due to the fact that they understated the price of timber.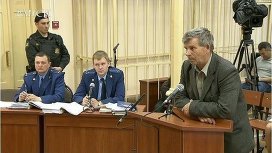 © RAPSI
Next to the stand is Pyotr Bulatov
11:48 And to the surprise of absolutely no one, the prosecutors want to introduce written testimony and the defense finds it unnecessary. And, again, the witness isn't totally confident that he provided testimony.... but his signature seems to make up for that lack of confidence.
11:43 According to him, VLK shipped only a couple of wagons, but due to differences between the bill and declared value, cooperation between the companies ended.
11:37 Next to the stand is Pyotr Bulatov, who runs the timber company Lebyazhsky.
New witness
11:35 And we're back in action.
11:24 Glazyrin is a free man. The judge has called a brief recess to allow time to identify witnesses. We expect to reconvene about 11:30.
11:20 When asked to provide his opinion on VLK, Glazyrin refrained, explaining that he could not answer either way whether or not they were a good company to work with.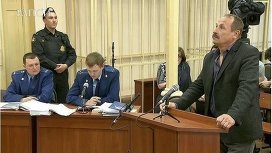 © RAPSI
Vladimir Glazyrin
11:18 Although generally seeming to lack confidence with regard to many of the questions asked, Glazyrin seems confident in his age and place of work circa 2009.
11:16 The prosecutor mentions that Opalyov said that cooperation with VLK was necessary because it was required by some from the regional government. When asked whether that was true, the witness responds that he can't remember.
11:08 Glazyrin's speech registers at just barely above a whisper.
11:05 And Asapov is a free man. Vladimir Glazyrin, who served at the helm of timber company Nagorsky in 2009, has taken the stand.
New witness
10:58 Asapov proceeds with his testimony. From his words the price for timber was understated while he can't say anything about the amout of shipment. He can't remember if the price changed in 2009 because of the crisis.
10:55 It's getting a bit hectic in the courtroom. Ofitserov's attorney has just interrupted the prosecutor while he read the records. Davidova says that he skips information which is essential for the defence and insists that the text is read in full without any exceptions.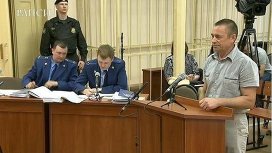 © RAPSI
Witness Alexei Asapov testifies in court
10:51 And as usual, the defense is opposed, based on a lack of evident contradiction between the written and oral testimonies. Judge Blinov asks Asapov whether he testified during the initial investigation. Asapov can't remember....
10:49 Asapov's memory of 2009 isn't crystal clear, and he doesn't speak with an incredible degree of elocution.... the prosecutors are going for the written testimony again.
10:46 The next witness, Alexei Asapov, has been called to the stand. Asapov ran the timber company Vyatskopolyansky in 2009. Judge Blinov asks for silence in the courtroom, saying that the air conditioner is drowning out the sound of the testimony.
New witness
10:40 The prosecutor simply began reading out testimony. The defense objected, saying that there hadn't been any discrepancies to remedy. But the judge sees no issue, inviting the prosecutor to carry on.
10:38 Navalny puts the same question he asked another witness a few minutes ago - if timber was shipped for free. Karetnyuk is suprised with the question asking in her turn if that's a joke. He explains that that's precisely the basis of the accusations.
10:36 Koretnyuk doesn't seem to want to discuss her interview with the Public Post or the notion that timber may have been sold for free.
10:35 The back-and-forth between Navalny and Koretnyuk consists largely of the former asking questions, the latter declining to answer, and the former responding with witty one-liners.
© RAPSI
Natalia Koretnyuk, who formerly led timber company Podosinovsky
10:32 Navalny mentions that Koretnyuk claimed that she had met him twice, and then asks what exactly she was on about? She explains that while they never technically spoke together, they had been present at meetings together. She claims that timber shipments were made in the amount of only 15-20 wagons per month, and that the VLK at the time was averaging only five.
10:28 When asked what she knew about the 2009 audit of Kirovles, she recalls having spoken with a female auditor.
10:26 Kiselev is free, having been replaced by Natalia Koretnyuk, who formerly led timber company Podosinovsky. She was ordered to appear in court.
New witness
10:22 If Kiselev had been forced to ship timber either literally or essentially for free, he would have been an unhappy camper. He doesn't seem terribly unhappy, so he probably wasn't forced to take on such a role.
10:20 Navaly wants to know what exactly Kiselev rememebers about VLK operations. He notes that Kiselev would have remembered if he had been required to ship timber for free. Navalny: "And if someone instructed you to ship VLK timber for free, would you have remembered?" Kiselev: "Timber? VLK? Free? Yeah - this is an ironic thing!" Laughter in the courtroom.
© RAPSI
Igor Kiselev is another witness in the Kirovles trial
10:18 Presiding Judge Blinov has warned both sides of the case to be accurate.
10:15 As the interrogation carries on, Ofitserov inquires as to how Kiselev could have known who exactly was delaying payments - whether it was VLK or Kirovles.
10:14 According to his testimony Kiselev was confident VLK company staff lacked knowledge and experience. VLK was an intermediary company with which Kirovles had a contract for timber sales. Ofitserov's lawyer interrupted Kiselev saying that this was a personal opinion and a flight from the original question.
10:08 Ofitserov's attorney Svetlana Davidova urges the judge not to disclose the evidence as a whole, but only to defer to it in the case of contradictions. The judge agrees. Everyone wins.
10:05 The petition was granted.
10:01 Prosecutors note that Kiselev doesn't have the clearest memory in the world of the events of 2009, and requests that we stick to the evidence on record. The defense disagrees. Deja vu.
10:00 He's discussing the forestry business and timber pricing circa 2009.
9:58 Kiselev was serving as CEO of Kotelnichsky timber company in 2009, and has no hard feelings.
© RAPSI
Judge Blinov presiding over Kirovles embezzlement case
9:56 Next up to the stand is Igor Kiselev - founder of the company Leskom.
New witness
9:53 Navalny again cuts in to ask more questions. He's excited about the opportunity to speak in the courtroom.... it's been a while. He asks why Opalyov left his post. Shcherchkov explains that Opalyov resigned. Scherchkov's done.
9:51 Shcherchkov claims that Opalyov did not carry out an audit at Navalny's request because he considered it too expensive.
9:49 Navalny is inquiring about Shcherchkov's ties with regional forestry business leaders. He asks Shcherchkov to recall specific appointments with such persons. Shcherchkov laboriously recalls various such occasions.
9:46 Ofitserov himself doesn't have any questions for Shcherchkov, although his attorney would like more information on the audit.
9:42 There was some dispute a few minutes ago about whether Navalny had an office, per se, while working for the Kirov government. Shcherchkov explained that he didn't have his own - rather the advisors shared an office. Anyway, whatever it was was located on the third floor of the government building. Notably, one of the earlier witnesses - no less a relevant figure than Kirovles CEO Vyacheslav Opalyov - had claimed it was on the fifth floor.... Opalyov struck a deal with prosecutors, but had formerly been co-accused alongside Navalny and Ofitserov.
9:39 Shcherchkov speaks calmly, evenly. The same cannot be said for all witnesses who have testified up to this point.... He seems to have a clear memory of the events that happened four years ago.
9:37 Navalny inquires as to whether Shcherchkov fully understood his job function, to which the latter responds he did - he was just clarifying that point for the benefit of others in the earlier line of questioning.
9:36 He explains that very many had believed that the unpaid rent would be forgiven - adding that that had been a mistake.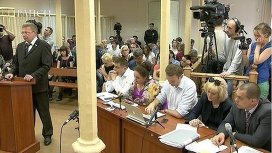 © RAPSI
Sergey Shcherchkov testifies in court over Kirovles embezzlement allegations
9:35 He then asks what has become of Kirovles since. Scherchkov responds that it has declared bankruptcy based on the Forestry Department's request.
9:34 Scherchkov explains that losses were at about 200 million rubles due to a lack of sales and leases of approximately two billion cubic meters of forest, for which Kirovles had to pay 360 million rubles annually.
9:32 The defense is now asking questions. Navalny begins by inquiring how bad things were for Kirovles in 2009.
9:30 He notes that Navalny did not have his own office.
9:29 Shcherchkov attests to the fact that as a civil servant, Navalny was not in control of Kirovles at the time. Rather, the then-governor was charged with overseeing the company.
9:25 Shcherchkov describes an audit of Kirovles that was carried out. He recounts the fact that at the time, Kirovles was the only company that could sell timber in the area. Shcherchkov did not agree with this.
9:21 Shcherchkov explains that Navalny introduced him to Ofitserov - Navalny's co-defendant - describing the latter as a man competent in marketing timber.
9:19 Shcherchkov is acquainted with Navalny and Kirovles. In his view, the firm performed governemnt contracts in areas of the forest previously unspoken for. He describes a dire economic situation for the region in 2009, recounting the crisis from his own point of view.
9:14 Today's first witness will be Kirov Region Deputy Prime Minister Sergey Shcherchkov.
9:14 The request was rejected.
9:12 The prosecutors beg to differ, arguing that the search was related to reports of extremist materials - and was unrelated to the case at hand.
9:10 Mikhailova has asked the judge to issue a special ruling pertaining to the search.
9:08 According to the attorney, Navalny's personal headquarters in Kirov were searched on May 9. In her view, the search was conducted illegally and the law enforcement officials that carried it out violated the attorney-client privilege.
9:07 The judge has entered and called the first witness, but defense attorney Olga Mikhailova has already sought to file a request.
9:00 Our Russian-language counterpart will be hosting a parallel video recording in case you want some illustrations to go with your action-packed text broadcast. Video is available here, and will begin as soon as the hearing gets underway.
8:50 Good morning and welcome to Day 4 of RAPSI's live broadcast of the timber embezzlement trial of the century, featuring Alexei Navalny. With you for today's gripping events are Maria Gusarova, Vladimir Yaduta, and Ingrid Burke.
Background
According to investigators, while serving on a voluntary basis as an adviser to the Kirov region governor, Navalny organized the theft of over 10,000 cubic meters of timber. It was allegedly stolen from Kirovles company between May and September 2009 in collusion with Vyatka Timber Company Director Pyotr Ofitserov and Kirovles CEO Vyacheslav Opalyov.
The regional budget is estimated to have suffered the loss of 16 million rubles ($514,140) as a result.
Navalny said in the interview with Dozhd TV earlier this month that he expected a conviction in the present case and announced his intention to run for the Russian presidency.
Investigators have since opened three other criminal cases against Navalny, on charges of embezzling from a political party, deceiving an international cosmetics company and conspiring to privatize a central Russia distillery illegally.
The Kirovles embezzlement case reached the court in late March. If convicted Navalny along with Ofitserov faces up to ten years in prison, and will be ineligible for public office even if slapped with probation. Opalyov, who has entered into an agreement with the prosecution, got 4 years suspended sentence.
Proceedings
The trial began on April 16, but was promptly postponed based on a request by Navalny's legal team for more time to prepare its defense. The hearing has been rescheduled to start the following week, on April 24.
In appealing for the postponement, Navalny noted that he had not yet exhausted all appeals in his effort to transfer the proceedings from Kirov to Moscow, and that he had not expected the case to move forward in Kirov prior to the final outcome of this decision. He explained further that he had recently added a local Kirov lawyer to his team. The local lawyer needed more time to prepare.
The judge held that Navalny's team should be afforded a week to prepare for trial.
The following week's hearing inspired Navalny's defense team to seek a replacement judge based on allegations of impropriety during witness examination.
Numerous heads of governmental logging companies testified throughout the day on timber production, pricing, and various other topics unique to the industry. Notably, some of these witnesses have since left their positions.
In the latest case development, late last April the court granted Navalny permission to take vacation from during Russia's Victory Day celebration, from 7-14 May.