Kirov court lets Navalny go on vacation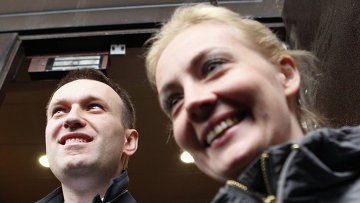 17:21 26/04/2013
MOSCOW, April 26 (RAPSI) - The Leninsky District Court in Kirov granted a motion Friday filed by opposition blogger Alexei Navalny, who stands accused in timber embezzlement case, RAPSI correspondent reports from the courtroom.
Navalny filed the vacation motion on the basis of wanting to spend time from May 7 to 14 with his family.
Under a similar motion, the court has granted permission to Pyotr Ofitserov, the second defendant in the case, to travel to the Kaluga region.
The next court session is scheduled for May 15.
According to the investigators, while serving on a voluntary basis as an adviser to the Kirov region governor, Navalny organized the theft of over 10,000 cubic meters of timber. It was allegedly stolen from the Kirovles company between May and September 2009 in collusion with Ofitserov, the Vyatka Timber Compan's director, and Kirovles CEO Vyacheslav Opalyov.
The regional budget is estimated to have suffered 16 million rubles ($510,906) in losses as a result.
If convicted, Navalny and Ofitserov face up to 10 years in prison. They will also be ineligible to serve office even if they only receive probation. Opalyov, who entered into an agreement with the prosecution, has received a four-year suspended sentence.