Illegal border crossing case initiated against opposition activist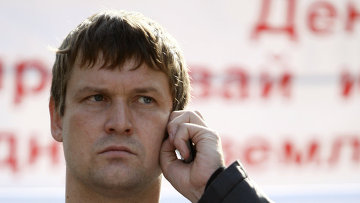 12:15 04/12/2012
MOSCOW, December 4 - RAPSI. The Investigative Committee's main investigative department has initiated a case against oppositionist Leonid Razvozzhayev for his illegal crossing of the Russian-Ukrainian border in October, Vladimir Markin, the committee's official spokesperson, told RIA Novosti on Tuesday.
The Investigative Committee reported that Razvozzhayev illegally crossed the Russian-Ukrainian border using his brother's passport in October.
They said that on October 15, 2012, Razvozzhayev, aware of the inspection held in his regard in connection with the facts shown in the "Anatomy of Protest 2" film, decided to avoid criminal liability and hide from the Russian investigative authorities.
"In a bid to confuse the law enforcement authorities, Razvozzhayev bought a train ticket to Kiev, Ukraine, using his brothers passport and crossed Russias state border without the valid documents needed to leave the country," Markin said.
On October 19, Russia's Investigative Committee placed Razvozzhayev on the federal wanted list. He was charged with organizing public unrest together with Left Front movement coordinator Sergei Udaltsov and his aide Konstantin Lebedev. The case against them was initiated after the broadcast of the "Anatomy of Protest 2" documentary film on the NTV broadcasting network.
The film claimed that the opposition was organizing a coup using funds from abroad and showed Udaltsov and his companions allegedly talking with then-head of Georgia's Parliamentary Defense and Security Committee Givi Targamadze, who is said to have been involved in planning the "color" revolutions in Georgia and Ukraine, as well as mass riots in Belarus.
Initially Razvozzhayev issued a full confession, but later claimed that he had confessed under pressure and had been tortured.