Opposition activist's robbery case to be dropped if he pleads guilty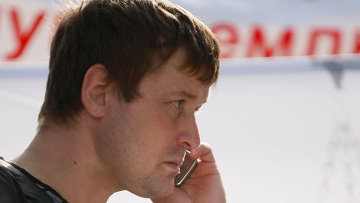 10:34 22/11/2012
MOSCOW, November 22 - RAPSI. Investigators are prepared to drop the criminal case against oppositionist Leonid Razvozzhayev, charged with robbery, as the statute of limitations has expired, but only if he pleads guilty, a source in the law enforcement authorities told RIA Novosti.
Investigators believe that Razvozzhayev, together with several accomplices, committed armed robbery against a fur trader on December 4, 1997. Allegedly, the group forced their way into the mans apartment, tied him up with Scotch tape, and demanded he hand over his goods.
"The investigation period under this article of the Criminal Code as revised on June 13, 1996, stipulated 15 years, but now the maximum term is ten years," a source said.
When the term expires, Razvozzhayev will be offered the chance to have the case dropped, based on non-exonerating grounds, said the source, saying that if he consents, it will mean that he pleads guilty.
"If he does not agree, the case will be submitted to court despite the fact that the terms have expired, as the investigators have the evidence needed for this," the source continued.
On October 19, the Russian Investigative Committee placed Razvozzhayev on the federal wanted list. He was charged with organizing public unrest together with Left Front movement coordinator Sergei Udaltsov and his aide Konstantin Lebedev. The case against them was initiated after the broadcast of the "Anatomy of Protest 2" documentary film on NTV broadcasting network.
The film claimed that the opposition was organizing a coup using funds from abroad and shows Udaltsov and his companions allegedly talking with Georgia's then-Parliamentary Defense and Security Committee head Givi Targamadze, who is said to be experienced in planning the "color" revolutions in Georgia and Ukraine, as well as mass riots in Belarus.