Arrest of opposition figure implicated in coup upheld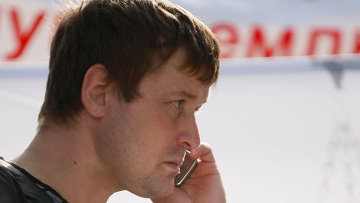 13:25 07/11/2012
MOSCOW, November 7 - RAPSI. The Moscow City Court upheld the arrest of opposition figure Leonid Razvozzhaev accused in the case of organizing mass riots, the court told the court's press service told the Russian Legal Information Agency (RAPSI/rapsinews.com).
Earlier, Razvozzhayev's attorney Mark Feygin told RAPSI that he had filed charges with the Investigative Committee in an effort to open a criminal case and investigation into Razvozzhayev's alleged kidnapping in Ukraine on October 18, 2012.
The attorney also plans to file a lawsuit against the makers of the "Anatomy of Protest 2" film and against NTV, a channel owned by the state-run Gazprom.
On October 19, the Russian Investigative Committee placed Razvozzhayev on the federal wanted list. He was charged with organizing public unrest together with Left Front movement coordinator, Sergei Udaltsov, and his assistant, Konstantin Lebedev. The case against them was initiated after "The Anatomy of Protest 2," was shown on NTV.
The documentary claimed that the opposition was organizing a coup using funds from abroad. The film shows Udaltsov and his companions allegedly talking with Georgia's then- Parliamentary Defense and Security Committee head Givi Targamadze, who is said to be experienced in planning the "color" revolutions in Georgia and Ukraine, as well as mass riots in Belarus.
While in Kiev, Razvozzhayev applied for political asylum with the Office of the United Nations High Commissioner for Refugees (UNHCR). He mysteriously disappeared shortly after leaving the UNHCR office, and ended up in custody of the Russian police.
The Investigative Committee later reported that Razvozzhayev came to them of his own accord, declaring that he wanted to confess. Razvozzhayev then allegedly told them of the circumstances surrounding the riots, as well as Sergei Udaltsov's, Konstantin Lebedev's, and other individuals' involvement in organizing the protests on May 6 on Bolotnaya Square in Moscow.
But Feygin said that Razvozzhayev has denied his acknowledgement of guilt.
According to the court's ruling, Razvozzhayev and Lebedev are being held in an investigative isolation ward. Udaltsov has been released under his own recognizance.