Ukrainian police not to initiate case on kidnapping of Russian activist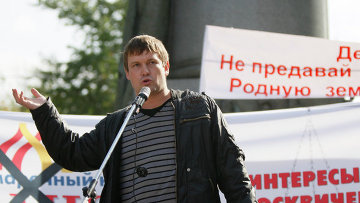 10:18 15/11/2012
KIEV, November 15 - RAPSI. The Kiev district police department has refused to initiate a criminal case on the alleged kidnapping of Russian oppositionist Leonid Razvozzhayev in Kiev, Alexandra Makovskaya, spokesperson from the United Nations High Commissioner for Refugees (UNHCR) in Kiev, told RIA Novosti on Wednesday.
Lawyers at the HIAS human rights organization, a UNCHR partner organization, submitted an application regarding the oppositionist's disappearance to the police department.
"We received a message from the Solomenskoye district police department that a decision had been made not to initiate a criminal case under Article 146 of the Criminal Code of Ukraine (illegal deprivation of liberty and kidnapping)," Makovskaya said.
She said that the police claimed that Razvozzhayev had legally crossed the country's border and expressed no complaints when going through the passport check-point.
On October 19, the Russian Investigative Committee placed Razvozzhayev on the federal wanted list. He was charged with organizing public unrest together with Left Front movement coordinator Sergei Udaltsov and his aide Konstantin Lebedev. The case against them was initiated after the broadcast of the "Anatomy of Protest 2" documentary film on NTV.
The film claimed that the opposition was organizing a coup using funds from abroad and shows Udaltsov and his companions allegedly talking with Georgia's then-Parliamentary Defense and Security Committee head Givi Targamadze, who is said to be experienced in planning the "color" revolutions in Georgia and Ukraine, as well as mass riots in Belarus.
On October 18, Razvozzhayev applied for political asylum with the UNHCR office in Kiev. He then disappeared after leaving the office, and wound up in the custody of the Russian police.
The Investigative Committee later reported that Razvozzhayev came to them on his own accord, declaring that he wanted to confess.
However, Razvozzhayev said that he was kidnapped and transported to Russia, where he was then pressured and tortured into giving a false confession.