Criminal case into "wedding shooting" launched after child sustained injury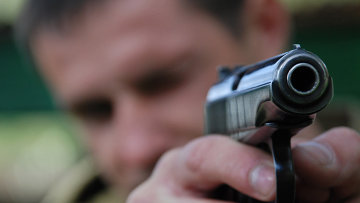 11:57 08/10/2012
MOSCOW, October 8 - RAPSI. The Moscow police have initiated a criminal case over the shooting with a non-lethal gun that occurred during a wedding procession in Moscow on September 30 because a child was hurt as a result, the Interior Ministry's Moscow Department reported on Saturday.
The Kommersant newspaper reported that the police are looking into a mother's claim that her child suffered a splinter in the face from a headlight that was blown out by a rubber bullet fired from the cortege.
On Friday the Tverskoy District Court upheld the 15-day arrest of Murad Agalarov, who fired the gun into the air.
"The court has denied Agalarov's appeal of his arrest," the court said.
The police had previously decided to refrain from opening a criminal case against the individuals involved.
The wedding procession was led by a Ferrari, followed by other luxury vehicles, Gazeta.Ru reported. The cars blocked traffic, while some of the passengers began firing the weapon into the air. The members of the wedding party justified their actions by claiming that it is a Dagestani cultural tradition. A non-lethal gun is an informal term for a self-defense weapon firing rubber bullets.
The police detained the perpetrators and reported the incident.
According to the police report, those involved had violated the rules for handling non-lethal weapons and for owning vehicles with dark tinted windows.
The detainees were later released.
The police reported on Monday that the gun had been confiscated from one of the individuals, and that he had been fined 2,000 rubles ($65). The owner of the gun may also be deprived of his license for the weapon.
Agalarov was sentenced to a 15-day arrest for publicly using foul language, which constituted flagrant disrespect to the individuals around him. Another guest who resisted the police's actions was issued a five-day arrest.
"With the help of journalists, police officers were able to find the Moscow resident whose three-year-old son had been lightly injured as a result of the incident," reads the report. "The criminal case has been opened over charges of hooliganism and an investigation is underway, as required."
The maximum punishment for this offence is five years in prison.