'Innocence of Muslims' distribution banned in Russia's Khabarovsk Region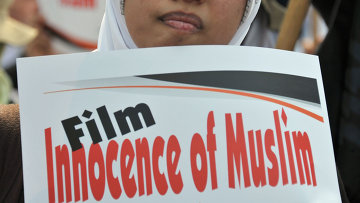 11:56 20/09/2012
KHABAROVSK, September 20 - RAPSI. The Khabarovsk and Komsomolsk-on-Amur prosecutors have warned heads of the Khabarovsk Territory's nine largest internet providers, whose offices are located in Khabarovsk and Komsomolsk-on-Amur, that it is illegal to distribute content of extremist nature online, and this includes the "Innocence of Muslims" film, the Khabarovsk Territory prosecutor's office reported on Thursday.
The prosecutors have also looked into whether the anti-extremism legislation has been abided by, in particular, its provisions banning the distribution of extremist material on the Internet.
The prosecutors of Chukotka, Altai Republic, Khakassia, Kabardino-Balkaria, Omsk Region and Ingushetia have already submitted similar requests to Internet providers in their regions.
Providers in Ingushetia have already said that without the court's permission they will not be able to limit access to websites where Innocence of Muslims has been posted, otherwise they run the risk of being sued.
Previously, access to YouTube was suspended for several hours by Rostelecom, Russia's one of the largest telecoms operator, in the Russia's Omsk Region in response to a letter sent by the regional prosecutor's office urging the company to stop distributing "Innocence of Muslims" for fear that the film would disseminate extremist ideas. Access resumed several hours later.
Mass demonstrations have broken out in Egypt, Libya, Tunisia, and Sudan, as well as in other predominantly Muslim countries. US Ambassador to Libya Christopher Stevens was killed along with three colleagues when rioters attacked the U.S. consulate in Benghazi on September 11.
A 14-minute US-made film trailer released last week on YouTube is thought to portray Muslims and the Prophet Muhammad in a negative light.
The United States is strengthening the security of its diplomatic staff in countries where they may be subject to attack, while a number of Eastern countries have blocked the access to the film. At the same time, Google has rejected requests that it completely remove clips of the film from its video-hosting sections.