U.S. may return Bout to Russia under international convention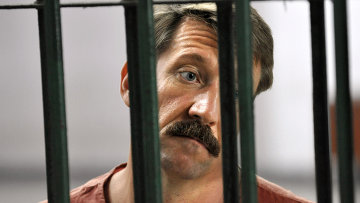 12:46 21/05/2012
MOSCOW, May 21 - RAPSI. Russian businessman Viktor Bout convicted in the United States may be returned to Russia based on the Convention on the Transfer of Sentenced Persons, dated March 21, 1983, as long as Bout consents and the justice ministries of both countries undertake certain steps, the Russian Foreign Ministry reports.
"The convention is applicable to Russia and the United States and may provide the legal way forward in this case," the ministry reports on Monday.
"Under the convention, the return of a sentenced person to Russia to serve out his sentence there requires the convict's consent and the completion of certain procedural actions by the justice ministries," says the ministry.
Bout was sentenced to 25 years in prison by the New York Federal Court for planning to sell arms to the Colombian Revolutionary Armed Forces. The U.S. agents who dealt with Bout presented themselves as the armed forces' commanders.
Bout has denied the charges against him.
Last week, Foreign Ministry spokesman Alexander Lukashevich said Moscow was ready to discuss Bout's possible return to Russia with the United States and employ international means therefor. The ministry also expressed its concern over the U.S. authorities' intention to send him to the Florence Federal Correctional Facility in Colorado, a maximum security prison for terrorists and most dangerous criminals.