Only diplomats can resolve issue of Bout's turn over to Russia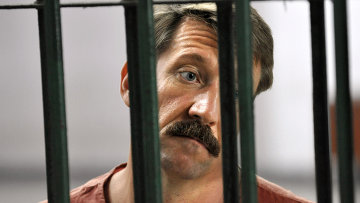 15:00 17/05/2012
ST.-PETERSBURG, May 17 - RAPSI. Acting Justice Minister Alexander Konovalov stated on Thursday that only a diplomatic decision could lead to alleged arms dealer Viktor Bout being handed over to Russia to serve his sentence at home.
"As of today, we do not have a bilateral or supranational mechanism for resolving such issues with the United States," he said at the II St. Petersburg International Legal Forum. "The issue of transferring a convict can only be decided through diplomatic channels."
He stressed that the transfer would require a trilateral agreement between the parties involved – the United States, Russia and the convict himself.
"I think this is a matter of having long consultations, which should be held in a workmanlike and weighted manner. We are ready to make our contribution to the process," the minister added.
On Wednesday, U.S. Attorney General Eric Holder said the United States may consider the possibility of Bout serving his sentence in Russia if it receives the relevant request.
Bout was sentenced to 25 years in prison for conspiring to sell arms to the Colombian FARC leftist armed group. The U.S. agents who dealt with him presented themselves as its commanders.
Bout has pleaded not guilty.