Bidder relieved of $2.5 mln collection for disrupting port auction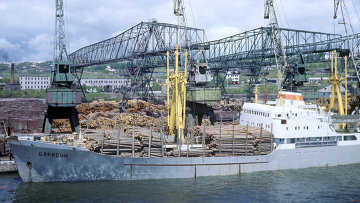 14:28 16/05/2012
MOSCOW, May 16 - RAPSI. The Ninth Commercial Court of Appeals has reversed its decision to collect $2.5 million from Seltekhstroy for the state property management agency. The company was accused of disrupting an auction to privatize the controlling share on the Vanino port in the Far East.
The court has only partially satisfied Seltekhstroy's appeal.
In February, a commercial court partially met the state agency's lawsuit for monetary damages. It initially sought to recover as much as 300.46 million rubles ($9.9 million).
The 73 percent stake in the seaport was auctioned on May 19, 2011. The event was attended by 14 bidders, including Oleg Deripaska's En-Group and Vladimir Lisin's UCLH.
However, the little-known Seltekhstroy eventually proved to be the successful bidder after it offered 10.8 billion rubles ($356 million), although the starting price was merely 934 million rubles ($30.7 million).
Seltekhstroy paid 93.4 million rubles ($3.07 million) upfront, but later failed to pay the entire sum by the June 24 deadline. The auction was declared a failure and the bidder forfeited its deposit. However, the regulator later decided to sue the unlucky winner and requested from Seltekhstroy 300.46 million rubles ($9.9 million) for disrupting the auction.
Seltekhstroy stated in its claim that the agency failed to observe the shares transfer deadline and violated the vendor's responsibility provisions.
Vanino is the largest stevedoring company in the Khabarovsk Territory. It provides cargo handling and freight forwarding services. Its major shareholders include the government with a 55 percent interest and the Rusal aluminum giant with a 20-percent share.