Bidder contests $2.6 mln collection for port auctioning failure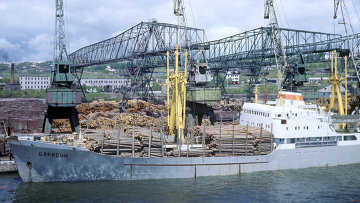 13:28 28/03/2012
MOSCOW, March 28 - RAPSI. Seltekhstroy company appealed a $2.6 million award in favor of the Federal Agency for Government Property Management for disrupting an auction to privatize the controlling share in the Vanino seaport.
A commercial court partially satisfied the regulator's claim in February. It initially sought 300.46 million rubles ($10.4 million).
The court also dismissed the bidder's counterclaim to invalidate the shares purchase and sale agreement.
Vanino is the largest stevedoring company in the Far Eastern Khabarovsk Territory. It is engaged in cargo handling and freight forwarding. The government holds a 55-percent stake in Vanino. Rusal, a leading aluminum producer, has a 20-percent interest in the seaport.
The auction to sell a 73-percent share in Vanino was held on May 19. It was attended by 14 bidders, including Oleg Deripaska's En-Group and Vladimir Lisin's UCLH.
However, the little-known Seltekhstroy eventually won the bid, offering 10.8 billion rubles ($354 million), although the starting price was 934 million rubles ($30.6 million).
The successful bidder made a 93.4 million ruble ($3.07 million) down payment, but later failed to pay the entire sum by the June 24 payment deadline. The auction was consequently canceled and Seltekhstroy forfeited its deposit. However, the agency later decided to sue the failed winner, seeking to recover 300.46 million rubles ($10.4 million) from Seltekhstroy for disrupting the auction.
Seltekhstroy stated in its claim that the regulator did not observe the shares transfer deadline and violated the purchaser's responsibility terms.