Vanino port privatization auction dispute to be heard in court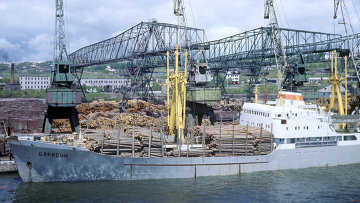 18:10 24/10/2011
MOSCOW, October 24 - RAPSI, Natalia Belova. A commercial court will hear on November 8 a lawsuit filed by the Federal Agency for State Property Management against Seltekhstroy for over 300 million rubles ($9.6 million). The suit centers on Seltekhstroy's alleged disruption of the state auctioning of a controlling stake in the Vanino port in the Khabarovsk Territory, the court told the Russian Legal Information Agency (RAPSI)
The hearing was postponed due to the judge's poor health.
The May 19 state auctioning of a 73-percent interest in the Vanino Sea Commercial Port was attended by 14 bidders, including Sibuglemet, SUEK, Oleg Deripaska's En+ Group and Vladimir Lisin's UCLH. The bidders completed over 700 steps in the auctioning process before the little-known Seltekhstroy offered the winning bid of 10.8 billion rubles ($344.6 million). The reserve price was extremely small in comparison at only 934 million rubles ($29.8 million).
Seltekhstroy paid a 93.4 million rubles ($2.98 million) deposit, but did not pay for the shares by the June 24 deadline. For this reason, the auction was declared a failure, and the defendant's deposit was forfeited. Nevertheless, the agency was not satisfied with taking the defendant's deposit. It has sought an additional 300.46 million rubles ($9.6 million) in damages in court.
The Vanino Sea Commercial Port is the largest cargo handling, transportation, and forwarding company in the Khabarovsk Territory. Its controlling owner is the state (55 percent), while Rusal, the aluminum giant, holds over 20 percent.