Prison appeals court dismissal of reprimand to Khodorkovsky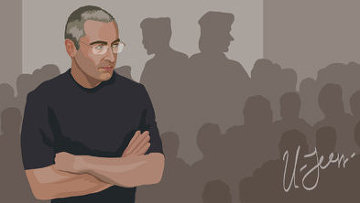 12:15 06/02/2012
MOSCOW, February 6 - RAPSI. The Segezha prison, in which Former YUKOS head Mikhail Khodorkovsky serves his sentence, appealed the court's dismissal of a reprimand to Khodorkovsky, Khodorkovsky's press center reported on Sunday.
"The prison challenged the court's decision invalidating the second reprimand to Mikhail Khodorkovsky. The Supreme Court of the Karelian Republic will hear the appeal on February 10," the press center reported.
RIA Novosti has yet to reach prison's administration and the court for comments.
Khodorkovsky was disciplined on August 19, 2011 for leaving his work place without permission. He then filed an appeal against the reprimand. The Segezha district court cancelled the reprimand on December15.
In 2005, Khodorkovsky and Lebedev were sentenced to eight years in prison for fraud and tax evasion. In late 2010, a Moscow district court sentenced them to 14 years in prison for oil theft and money laundering.
They were expected to be released in 2017, taking into account the time they had already served for their convictions from their first trial in 2005. However, on May 24, the Moscow City Court reduced their sentences by one year. They now may be released in 2016.
Khodorkovsky serves his sentence in a colony near the town of Segezha in Karelia, while Lebedev - in the prison of the town of Velsk in Arkhangelsk region.