Court refuses to hear Tymoshenko's arrest appeal in her absence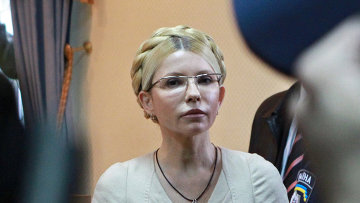 16:21 16/12/2011
KIEV, December 16 - RAPSI. An appeals court has refused to hear former Ukrainian Prime Minister Yulia Tymoshenko's appeal against her second arrest in her absence, RIA Novosti reports from the courtroom.
Tymoshenko informed the court she can not attend the hearing for health reasons.
The presiding judge said the court also received a medical certificate from the pretrial detention center, which says doctors examined Tymoshenko and found no reasons for her to miss the hearing.
The judge also said she received a confirmation that Tymoshenko was duly notified about the hearing.
The prosecution asked for the hearing to continue in Tymoshenko's absence. Defense counsel Sergei Vlasenko read out Tymoshenko's statement that she refused to participate in the hearing as it will not affect the court's judgment.
Judge Yefimova decided to postpone the case until December 21 after hearing the parties' arguments.
The court's postponement of Tymoshenko's appeal is politically motivated, defense says.
A Kiev district court conducted an on-site session at the pretrial detention center on December 8 as Tymoshenko could not walk and stayed in bed due to her poor health.
The court issued an arrest warrant for Tymoshenko, although she is already serving her 7-year prison sentence for her conviction from the first trial. This time Tymoshenko was arrested in connection to her activities as the head of the United Energy Systems of Ukraine
The appeals court is also hearing Tymoshenko's appeal against her first sentence in the "gas case." Tymoshenko refuses to attend the court referring to her poor health. Meanwhile, the prosecutor deems she just simulates illness.