Defense and prosecution in "Bout case" to make final speeches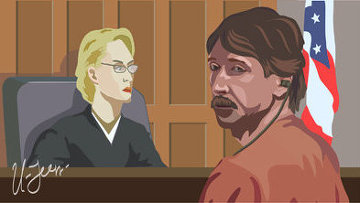 10:41 31/10/2011
NEW YORK, October 31 - RAPSI. A New York court will finish hearing on Monday the case of Russian businessman Viktor Bout started on October 11.
The United States charged Bout with conspiring to kill Americans and U.S. officials, illegal surface-to-air missile trafficking, and supporting terrorism through cooperation with the Colombian guerilla organization FARC. Bout denied all charges.
The jury will hear the final arguments of the defense and prosecution and will then withdraw to the consultation room to pass the verdict.
The verdict must be passed unanimously. Otherwise the case will be submitted to a new jury for reconsideration.
Prosecutor Brendon McGuire asked the court to grant him two hours to present his case, while Bout's counsel Albert Dayan asked for an hour and a half.
The court has been cross-examining five witnesses for the prosecution for three weeks including UK citizen Andrew Smulian, 70, who agreed to cooperate with the investigation in exchange for a mitigated sentence.
Smulian pleaded guilty on all four counts and agreed to testify against Bout.
The defense party refused to present its witnesses to the court and Bout declined testifying at the cross-examination, which is a voluntary procedure in the U.S. legal system.