Jury reads transcripts of Bout's talks with alleged FARC commanders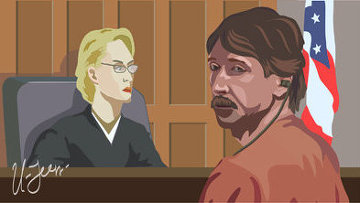 10:04 25/10/2011
NEW YORK, October 25 - RAPSI. Transcripts of eavesdropped talks between Viktor Bout and US informers who pretended to be Colombian revolutionary forces' (FARC) commanders were handed out to the jury in a US court in New York on Monday, RIA Novosti reported from the courtroom.
The United States have charged Bout with conspiring to kill Americans and US officials, illegal surface-to-air missile trafficking, and supporting terrorism through cooperation with the Colombian guerilla organization FARC.
Bout has pleaded not guilty to all charges.
The case hearings started in October.
The jury was supplied with a transcript and on Monday the prosecutor read out the passages, which he deemed most important. The talks were conducted in English and Spanish, with some Russian.
The court played to the jury on Monday records of negotiations between Bout and the Drugs Enforcement Agency's (DEA) informers on contract details and Bout's drawing of a light drone armed with grenade launchers also offered to the would-be customers.
Bout's attorney Albert Dayan argues that Bout intended only to sell aircraft, but discussed arms supplies just to keep the prospective clients. He emphasized that the parties had no ready contract, which means no final agreement on the deal.