Defendant in "Bout case" tells jury about arms deal preparation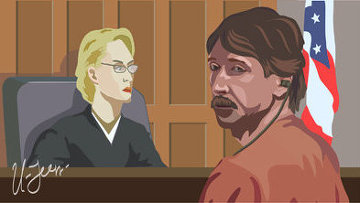 10:27 27/10/2011
NEW YORK, October 27 - RAPSI. Andrew Smulian, a UK citizen involved in the "Bout case", disclosed to the jury the details of preparing the arms deal with Columbian left-wing radicals on Wednesday, RIA Novosti reported from the courtroom.

The United States have charged Bout with conspiring to kill Americans and US officials, illegal surface-to-air missile trafficking, and supporting terrorism through cooperation with the Colombian guerilla organization FARC. Bout has pleaded not guilty to all charges.

Unlike Bout, Smulian has pleaded guilty on all four counts and began to cooperate with the investigation by testifying against the Russian.

According to Smulian, who was the first to be contacted by the phony Colombian guerrilla commanders, initially Bout did not want to take part in the deal saying he does not deal with drug pushers. However, later Bout expressed his liking to the FARC's leftist ideology and agreed, as follows from case materials.

Court records read that Bout discussed weapons delivery plans, advised to launch small-scale weapons and ammunition production in Colombia and proposed opening a private bank for laundering FARC money. All participants in the stitch-up operation, except Smulian, were Drugs Enforcement Agency (DEA) informers.