Akin Gump explores avenues for bringing son of deposed Kyrgyz leader to justice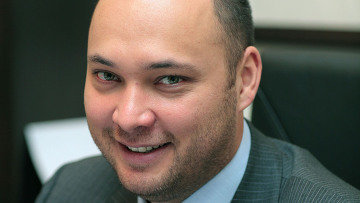 16:53 31/07/2013
MOSCOW, July 31 (RAPSI, Ingrid Burke) - Having set its sights on the recovery of stolen Kyrgyz public assets and the investigations and prosecutions connected therewith, international law firm Akin Gump Strauss Hauer & Feld LLP has offered its pro-bono services to the General Prosecutor's Office of Kyrgyzstan in spearheading anti-corruption efforts.
Thomas McCarthy, a senior counsel in Akin Gump's Washington DC office who has been working on the case, told RAPSI Monday that the US case against Maxim Bakiyev, son of deposed former Kygyz president Kurmanbek Bakiyev, has not slipped under the radar, explaining: "Generally the Kyrgyz have a great interest in pursuing Maxim Bakiyev.
They ultimately want him extradited to Kyrgyzstan. Maxim Bakiyev is suspected of controlling enormous amounts of money taken from the people of Kyrgyzstan. To that extent, we plan and hope to assist the Government of Kyrgyzstan in those efforts. If there are any assets in the US that can be identified we'll certainly assist and counsel the government of Kyrgyzstan in how to best and most effectively proceed against those assets. If there is an avenue for bringing Maxim Bakiyev to justice in the US that's more effective than bringing him to justice somewhere else, we certainly hope to assist the Kyrgyz government in pursuing that, but it's a little too early right now to say whether prosecution in the US is more effective than prosecution in the UK or other jurisdictions where he may be brought to trial, or ultimately perhaps even brought back to Kyrgyzstan."
Bakiyev, who served at the helm of Kyrgyzstan's Central Agency for Development, Investment, and Innovation during his father's presidency, was sentenced in absentia by a Kyrgyz court in March to 25 years in prison for corruption. He was accused of having used his position for purposes of illegal privatization.
He was arrested in October 2012 in the UK where he had been living since fleeing Kyrgyzstan after the April 2010 coup that ousted his father from the seat of power. At the time, the younger Bakiyev was being sought by US authorities in connection with a securities fraud and obstruction of justice case, but the case was dismissed suddenly in May.
Kyrgyz Foreign Minister Erlan Abdyldayev expressed his disappointment with the US decision to Ambassador Pamela Spratlen, stating that "one of the key principles of democracy - the supremacy of law and ensuring offender accountability - has obviously failed."
Spokesperson for the Kyrgyz General Prosecutor's Office Seyitjan Apyshev told RIA Novosti that requests for information on Bakiyev's financial assets had been submitted to a number of countries: "The republic's General Prosecutor's Office earlier sent official requests to the authorities of the United States, United Kingdon, and Latvia seeking information on the financial accounts of Maxim Bakiyev."
Speaking with RAPSI Monday McCarthy touched on the case, stating: "It's unfortunate that the US government dropped the case that it was pursuing. On the other hand, that wasn't a case that was centrally against or focused on Maxim Bakiyev. And we certainly understand that the US government may very well have had very good reasons to not pursue it. That's fine. We hope that if there's an opportunity to open a more direct case – that the US might even suggest – we hope we can have those discussions with the US."
The US Foreign Agents Registration Act (FARA) is a statute requiring those acting as foreign agents to periodically disclose information about their relations with a given foreign principle, their activities, and other such details of the given relationship.
In its FARA application filed earlier this month, Akin Gump describes its work for the Kygyz General Prosecutor's Office in the following terms: "Outreach to US government officials and US public to develop a country-wide anti-corruption program, enhance abilities to investigate and prosecute matters relating to stolen public assets and to recover stolen public assets located in other countries. Outreach will consist of interactions with national and multinational officials to explore, negotiate and secure funding, technical and other assistance for these efforts."
The earnings section of the FARA form stipulates that the firm's earnings will not be based solely on services rendered to the foreign principal. In fact, the firm is acting in this case on a pro-bono basis.
Speaking to the firm's motivation for taking on the case, McCarthy explained, "Governments and the people that run governments should not be allowed to rule with impunity. This is something that I think that all the governments that we hope to speak with will support. We're looking to create a teaming environment, and to create a strong team between the Prosecutor General and law enforcement of Kyrgyzstan, and their counterparts within the United States and the UK and Switzerland and Latvia. There really should be no place in the civilized world for people like the Bakiyevs to get away with what they've done, and if we can assist in building a stronger more cohesive community that will send that message, then this is all worthwhile."