Former Kyrgyz president sentenced to 24 years in prison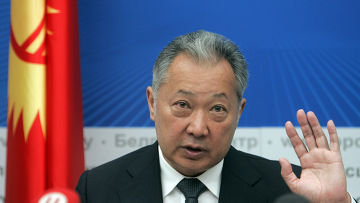 16:01 12/02/2013
BISHKEK, February 12 - RAPSI. A military court in Kyrgyzstan on Tuesday sentenced former President Kurmanbek Bakiyev to 24 years in a high security prison in absentia. His brother Zhanybek "Zhanysh" Bakiyev, who headed his security service, was sentenced to life.
A mass riot in April 2010 resulted in the downfall of the former president, who himself had risen to power by overthrowing President Askar Akayev in 2005.
Following the coup in 2010, the country sank into a series of riots that culminated in a bloody interethnic clash between the Kyrgyz and the Uzbeks who live in southern Kyrgyzstan.
Around 90 people were killed and over 1,000 were injured. Bakiyev, his brother, and several of their relatives were charged with mass murder and abuse of power and placed on the international wanted list.
The new authorities accused the former president and his family of nepotism and corruption.
The court indicted the former president of crimes punishable under the abuse of power clause of the country's Criminal Code. In addition to the prison term, the brothers' property will also be confiscated.
Zhanybek Bakiyev, indicted under six articles of the Criminal Code including mass murder, was also stripped of his military rank and regalia.
The brothers have reportedly fled from justice to find refuge in Belarus.