Alleged Russian members of Ukraine's Right Sector arrested in absentia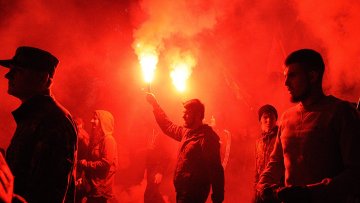 11:16 07/09/2017
MOSCOW, September 7 (RAPSI) – Three Russian nationals allegedly involved in the activities of prohibited Right Sector nationalist organization have been arrested in absentia, the Investigative Committee's press service reported Thursday.
Igor Chudinov, Georgy Stotsky and Artem Skoropadsky are charged with organizing an extremist organization. Stotsky is additionally charged with participation in extremist organization. All defendants have been put on the international wanted list.
According to investigators, Chudinov acting as a commander of one of the organization's fighting units took part in military operations against civilians of self-proclaimed Donetsk People's Republic and Luhansk People's Republic. Right Sector activist Stotsky repeatedly participated in rallies and marches, propagated the organization's ideology on the Internet. Right Sector press office chief Skoropadsky has also propagated extremist ideas, called for joining the organization and participating in criminal activity, the statement reads.
Right Sector is a Ukrainian association of radical nationalist organizations. In January and February 2014, its members clashed with police and seized administrative buildings in Kiev. Since April 2014, Right Sector has been involved in fighting the protest movement in eastern Ukraine.
In November 2014, Russia's Supreme Court declared Right Sector an extremist group and banned its activity in Russia. The Investigative Committee opened a criminal case against Right Sector leader Dmitry Yarosh for alleged incitement of terrorism.
In January 2015, Right Sector was added to the Russian register of prohibited organizations.