Probe opened into Russian citizens suspected of Right Sector membership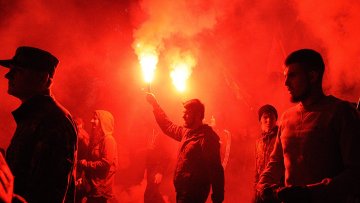 10:58 11/04/2017
MOSCOW, April 11 (RAPSI) – A criminal case has been opened against two Russian nationals on suspicion of their involvement in activities of the prohibited Right Sector nationalist organization, Russia's Investigative Committee announced on Tuesday.
According to investigators, the arrested residents of Russia's Republic of Udmurtia and Arkhangelsk Region participated in the armed conflict in Donbass on the site of the extremist organization against self-proclaimed Donetsk People's Republic and Luhansk People's Republic.
A military operation was launched by Ukraine against Donetsk and Luhansk People's Republics in 2014 soon after they had proclaimed independence. According to the most recent UN data, about 10,000 people were victims of the conflict.
Right Sector is a Ukrainian association of radical nationalist organizations. In January and February 2014, its members clashed with police and seized administrative buildings in Kiev. Since April 2014, Right Sector has been involved in fighting the protest movement in eastern Ukraine.
In November 2014, Russia's Supreme Court declared Right Sector an extremist group and banned its activity in Russia. The Investigative Committee opened a criminal case against Right Sector leader Dmitry Yarosh for alleged incitement of terrorism.
In January 2015, Right Sector was added to the Russian register of prohibited organizations.