Alyokhina mulls humanitarian activity after release - attorney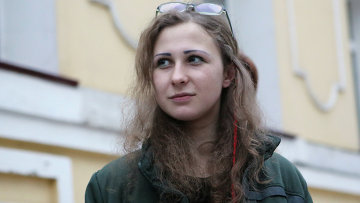 12:41 23/12/2013
NIZHNY NOVGOROD, December 23 (RAPSI) – Pussy Riot member Maria Alyokhina, who was pardoned and released from prison on Monday, plans to engage in human rights activism, her attorney Pyotr Zaikin told the press.
After being released from prison in Nizhny Novgorod, Alyokhina went to the office of Russian NGO Committee Against Torture.
Last week, The State Duma passed an amnesty bill submitted by Russian President Vladimir Putin. The amnesty was arranged to coincide with the 20th anniversary of the Constitution of the Russian Federation.
In February 2012, five young women wearing brightly colored balaclavas staged a punk rock prayer in Moscow's Christ the Savior Cathedral. An edited video of their performance was posted on the Internet and caused a public outcry.
In August 2012, the Khamovnichesky District Court in Moscow sentenced Tolokonnikova and two other Pussy Riot members - Maria Alyokhina and Yekaterina Samutsevich - to two years in a prison settlement for hooliganism.
In October 2012, the Moscow City Court changed Samutsevich's verdict to a suspended sentence and released her immediately based on her new attorneys' argument that she had been seized by security guards prior to reaching the altar.
The sentences of Tolokonnikova and Alyokhina were upheld. Alyokhina was transferred last August to serve her prison term to Nizhny Novgorod region. Tolokonnikova remained in Mordovia. In November, Tolokonnikova was transferred to the Krasnoyarsk Territory.