Pussy Riot member Alyokhina's sentencing appeal - live broadcast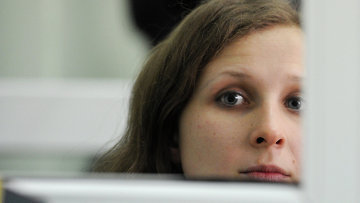 19:30 25/09/2013
MOSCOW, September 25 (RAPSI) – The Russian Legal Information Agency (RAPSI) is hosting a live text broadcast of a hearing to settle whether jailed Pussy Riot punk group member Maria Alyokhina will be granted a mitigation for the remaining part of her sentence.
The broadcast has begun at 10:20am Moscow time (GMT +4) and will be held from a district court in the Russian city of Nizhny Novgorod. According to the motion, Alyokhina has served out over half of her sentence, thus invoking her a right to move for a lighter punishment. The full term of Alyokhina's sentence is set to expire in March 2014. In case social media's more your style, check out our Twitter updates here.
LIVE TRANSCRIPT
12:10 Well, thank you all for letting us guide you through this chilly September morning in Nizhny Novgorod. Please stay tuned for updates on all things Pussy Riot. We look forward to the next live broadcast, and we hope you do too. Have a good day!
12:08 Before heading back to the colony, Alyokhina asked her mom to send her some warm clothes.
12:05 The official reason for the adjournment: not all of the aggrieved parties were duly notified of the proceedings
11:55 And the hearing has been adjourned. The plot thickens. Prosecutors requested an adjournment, and it was granted. So I guess we'll have to wait until October 18 to see how this all plays out.
11:54 Primarily at issue, the profile lacks an opinion from the administration on whether Aloykhina deserves a sentencing mitigation.
11:53 Khrunova asserts to the judge that there are problems with the profile of Alyokhina provided by the prison colony authorities.
11:51 And we're back!
11:47 Well all is not lost. This Viking epic of a break has given Verzilov and Alyokhina a chance to catch up. Alyokhina tells Verzilov he looks awful, to which he responds that he only slept four hours last night. Quite the charmer, Verzilov adds that Alyokhina looks wonderful.
11:42 Alyokhina's cage is locked and protected by a three-person convoy
11:39 The break has been prolonged. The audience is languishing.
11:30 Verzilov is doing what he does - giving interviews. He explains that, "there is no chance today."
11:27 Here's a picture of Alyokhina's mom.
© RIA Novosti, Marfa Guzeeva
Alyokhina's mom spoke with reporters during the break
11:23 Other celebrity guests at today's proceedings are Petr Verzilov, husband of jailed, hunger-striking Pussy Riot member Nadezhda Tolokonnikova, and Yekaterina Samutsevich - who was initially convicted alongside Tolokonnikova and Alyokhina, but who has since been freed.
11:18 The security presence is pretty strong here today. Bailiffs are hyper-vigilant, and police are in the courtroom. That in and of itself isn't unusual - local police officers are regularly present during courtroom proceedings. Notably, some have claimed to have seen federal police in the courtroom today.
11:10 Alyokhina's mom spoke with reporters during the break, explaining that she's not optimistic today's decision will fall in her daughter's favor.
11:02 And just for fun, or in case you're more comfortable in Russian than in English but by some twist of fate ended up on RAPSI's international edition, here's a link to our simultaneous Russian-language broadcast.
11:02 So hey, why not use this as an opportunity for a bit of prep time of our own? Ok. Game plan: today's presiding judge is Tatiana Polshkova. Our prosecutor for the day is Alexander Presnyakov. And our defense team is composed of Irina Khrunova of Moscow, and Petr Zaikin of Nizhny Novgorod.
10:56 Not unpredictably, the court has announced a break to provide Alyokhina with a bit of prep time. We expect to resume in about half an hour.
10:55 Alyokhina is sitting in the courtroom cage.
10:54 Alyokhina rocked up to court wearing a black sweater and a black headband. When asked why, she said "Because my friend is starving." On a side note, she mentioned to reporters that the conditions in her new Nizhny Novgorod colony are better than the ones in her former colony in Perm.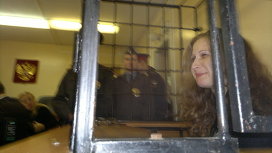 © RIA Novosti, Marfa Guzeeva
Alyokhina was put into a courtroom cage
10:47 And we're off to a promising start: Maria Alyokhina has refused to disclose her nationality to the court....
10:43 The hearing has begun.
10:43 Alyokhina mentions in passing - with reference to today's hearing - "you'll never win if you don't at least try."
10:36 Alyokhina has arrived.
10:33 Word around the campfire is it's supposed to start snowing in Nizhny Novgorod by the end of the week. Slowpokes.... the first snow's already arrived in Moscow.
10:30 And alas, we haven't started on time. In cool news though, there's some big sporting event set to take place in the prison colony nearby, where family members of the prison authorities will compete against each other. Maybe that started on time.
10:25 The court is located near the prison colony where Alyokhina is serving out her sentence.
10:24 The courthouse is quite small. Alyokhina has not yet arrived.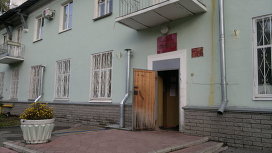 © RIA Novosti, Marfa Guzeeva
Nizhny Novgorod district court gets prepared for the hearing
10:21 For all things Pussy Riot, check out RAPSI's coverage here.
10:19 Among those in attendance are Alyokhina's mother, who told RAPSI that she saw her daughter in early September.
10:15 Good morning everyone and thank you for joining us this morning for Maria Alyokhina's sentencing mitigation hearing! Trial is set to begin in about 15 minutes in Nizhny Novgorod. The court is all prepped and ready to go. With you this morning are Marfa Guzeeva, Vladimir Yaduta, and Ingrid Burke.
Background
In February 2012, five young women wearing brightly colored balaclavas staged a punk rock prayer in Moscow's Christ the Savior Cathedral. An edited video of their performance was posted on the Internet and caused a public outcry.
In August 2012, the Khamovnichesky District Court in Moscow sentenced Alyokhina, Tolokonnikova and another Pussy Riot member - Yekaterina Samutsevich - to two years in a prison settlement on charges of hooliganism.
In October 2012, the Moscow City Court suspended Samutsevich's sentence and released her immediately based on her new attorneys' argument that she had been seized by security guards prior to reaching the altar.
The sentences of Alyokhina and Tolokonnikova were upheld.
Alyokhina was transferred earlier in August to serve her prison term to Nizhny Novgorod region while Tolokonnikova remains in Mordovia.