Moscow borough police chief fired over recent Anti-Migrant Riots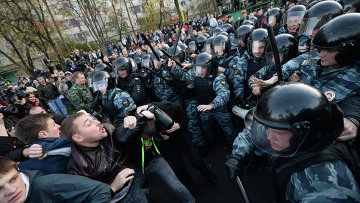 11:58 15/10/2013
MOSCOW, October 15 (RAPSI/RIA Novosti) – Moscow police chief on Tuesday has fired Gennady Kaverin, the head of police of Biryulyovo, a Moscow Southern District borough, after it was caught up in a massive riot aimed at illegal immigrants, the Interior Ministry's press service told journalist.
The Interior Ministry's press service added that the police chief of Southern District is also facing dismissal over the weekend riots.
The riots sparked on Saturday, after a mass meeting of the district's residents, who were mourning the death of Yegor Shcherbakov, 25. Scherabkov was walking home with his girlfriend, when fatally stabbed by an individual, whom the media and the internet community described as "not a Russian citizen".
Various media outlets reported that Scherbakov was stabbed trying to protect his girlfriend from "assault", allegedly after she rejected the stranger's lewd approach.
Helicopters and over a thousand police officers were dispatched to Biryulyovo in Moscow's Southern District on Sunday afternoon as crowds began attacking police lines and local businesses, including the vegetable warehouse, after a young Russian man was knifed to death last week by a suspect believed to be non-Russian.
The Health Ministry said that 23 people sought medical help, and police said that six riot police officers were injured in the skirmishes, and two have been hospitalized.
Police said late Monday morning that 308 of the 380 detained during overnight disturbances would be released without charge, 70 will face administrative charges and be required to appear in court, and two will be detained for 48 hours on criminal charges. It was unclear what charges, if any, those detained in the vegetable warehouse would face.
A court sentenced 15 people to fines ranging between 500 rubles ($15.5) and 5,000 rubles ($155). Cases of other detainees are yet to be heard.
In recent years Russia has seen a series of violent protests in reaction to crimes allegedly committed by people from ethnic minorities. Such protests, often aimed at people from the Caucasus region, are motivated by what the protestors perceive as the authorities' inability, or unwillingness, to hold the perpetrators to account.