Over 250 protesters detained in Moscow riot, criminal case opened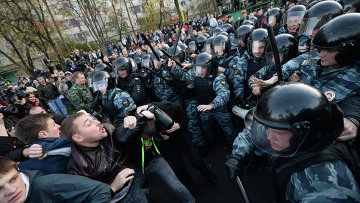 21:12 13/10/2013
MOSCOW, October 13 (RAPSI) – A recent murder incident in Moscow has led to a mass protest on Sunday which turned violent, with more than 250 people detained on hooliganism charges, RIA Novosti reported Sunday.
The murder happened on Thursday night - early Friday morning, in southern Moscow. A 25-year-old man, Yegor Sherbakov, was fatally stabbed as he was returning home with his girlfriend, according to statement of the Russian Investigative Committee.
Up to 1,000 people reportedly gathered in southern Moscow on Sunday to urge police to detain the suspect in a murder case, who is believed to be either an immigrant from Central Asia or North Caucasus, a region in southern Russia.
Clashes with the police erupted after several of the protesters who forced their way into the shopping center and started to break glass were detained.
Interior Minister Vladimir Kolokoltsev called an emergency meeting in the aftermath of the mass protests as security had been tightened all over the city.
Moscow Mayor Sergei Sobyanin said that a thorough investigation into the murder should be carried out while those who are responsible for the street riots should be brought to justice.