Madonna and Lady Gaga's shows in Russia were illegal - prosecutors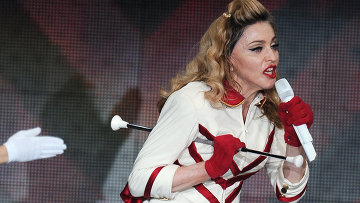 15:44 01/08/2013
ST. PETERSBURG August 1 (RAPSI) - Prosecutor General's Office says that Madonna and Lady Gaga violated the visa conditions when performing shows in Russia. St. Petersburg lawmaker Vitaly Milonov, sponsor of the city's law prohibiting gay propaganda among minors, filed an inquiry with the Prosecutor General's Office in April, in which he requested an assessment of whether Madonna or Gaga violated any tax or immigration laws while in Russia.
The lawmaker believes that the visa issued to Madonna exempted her from collecting money from her shows. Milonov says that for the St. Petersburg show alone she received $1.1 million.
"The visas issued were of the basic cultural exchange sort, which does not grant their bearers the right to engage in any commercial activity," - according to the response issued by the Prosecutor General's Office, pertaining to both pop stars.
The document says that the prosecutors may forward the information to the Foreign Ministry and the Federal Migration Service for them to take action upon these findings.
In December, Vitaly Milonov announced that he had filed an application with the St. Petersburg Prosecutor's Office regarding Lady Gaga, claiming that her concert promoted homosexuality among children, that she used the Russian flag improperly, and that she slandered Russia.
The St. Petersburg anti-gay legislation attracted a great deal of attention last November when a group of concerned citizens filed a civil suit against Madonna, for allegedly having perpetuated homosexual propaganda during her concert in the city last summer. The plaintiffs specifically charged that by passing out pink arm bands and encouraging the audience not to be afraid of gay people, the pop diva violated the city ordinance. Finding their argument less than compelling, a St. Petersburg judge held against the plaintiffs, and ordered them to pay legal fees.