St. Petersburg lawmaker launches criminal complaint against Lady Gaga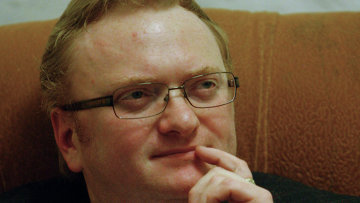 11:43 19/12/2012
ST. PETERSBURG, December 19 - RAPSI. St. Petersburg municipal lawmaker Vitaly Milonov has filed a request with regional police chief Sergei Umnov to investigate Lady Gaga's concert in St. Petersburg, Milonov's press service reported.
Milonov had already announced that he had filed an application with the St. Petersburg Prosecutor's Office regarding Lady Gaga, claiming that her concert promoted homosexuality among children, that she used the Russian flag improperly, and that she slandered Russia.
"Several concert goers said that the singer made statements which publically promoted untraditional sexual orientation and urged all those present to support the LGBT community (either financially, or by joining it), despite the fact that minors were present in the venue," the report reads.
The MP's press service says that there are photos and videos which confirm these allegations.
Milonov believes that the singer's actions at the concert were in breach of the law. He has therefore requested that her performance to be analyzed and if violations are revealed, that liability should be imposed on her and the concert's organizers.
Vitaly Milonov was responsible for proposing the city's gay propaganda law.
The law was passed in March and criminalizes "public action aimed at propagandizing sodomy, lesbianism, bisexualism, and transgenderism among minors." Those charged with breaking the law face fines ranging between 5,000 ($161) and 500,000 rubles ($16,136).
Milonov, together with other activists, also spoke out against Madonna's concert in St. Petersburg this year.
Activists filed several applications with the police, seeking to declare Madonna in breach of the law. They claimed that they were offended by her explicit support for homosexuality.
However, the court ruled against them, stating that Madonna did not break the law.