International reactions flood in following Navalny embezzlement conviction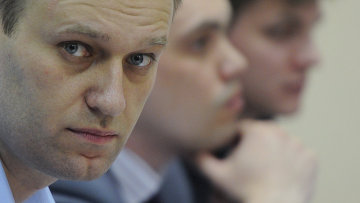 18:22 18/07/2013
MOSCOW, July 18 (RAPSI) - Members of the international community have been quick to assert their discontent with the embezzlement verdict handed down Thursday against opposition activist and Moscow mayoral hopeful Alexei Navalny.
Navalny was found guilty of timber embezzlement Thursday stemming from a stint spent serving as an advisor to Kirov governor Nikita Belykh between May and September 2009. According to investigators, Navalny organized the theft of over 10,000 cubic meters of timber during that period in collusion with Vyatka Timber Company Director Pyotr Ofitserov and Kirovles CEO Vyacheslav Opalyov.
He was sentenced to five years in a penal colony, and his co-accused Pyotr Ofitserov received a four-year sentence. The two were held liable to pay a one million ruble fine between them.
A spokesperson for EU High Representative for Foreign Affairs Catherine Ashton released a statement Thursday voicing concern over the verdict and stating that: "The charges against [Navalny and Ofitserov] have not been substantiated during the trial."
After having mentioned Navalny's involvement in the Russian opposition coordination council and his anti-corruption work, Ashton's spokesperson noted: "Civil society has a vital role to play in exposing wrongdoing and defending human rights, and it should not be stifled… This outcome, given the procedural shortcomings, raises serious questions as to the state of the rule of law in Russia."
UK Foreign Secretary William Hague issued a statement Thursday as well, voicing a similar concern about the state of the rule of law in Russia: "The decision to sentence Navalny for 5 years has highlighted once again the concerns felt by many about the selective application of the rule of law in Russia."
US Ambassador to Russia Michael McFaul tweeted Thursday afternoon: "We are deeply disappointed in the conviction of [Navalny] and the apparent political motivations in this trial."
Still, not all public reactions have been negative. Director of the Russian think tank the Center of Political Studies Sergei Markov argued that the proceedings were not political: "Of course the process was not political, and Navalny is not a political prisoner. I don't think there will be hardly any protests. Since even supporters of Navalny who have publicly denied the claims, understand perfectly well that Navalny was involved in some theft. This has been proved by the court; there are obvious facts."
Navalny was taken into custody on the spot, asking as he prepared to be led away if he could bid farewell to his parents first. Ofitserov was detained as well. His wife was in tears, though Navalny's wife maintained a more stoic demeanor.
Once Navalny's verdict enters into force - which, under Russian law, happens if and when he loses his first appeal - his political aspirations will be finished. State Duma representative to the Supreme Court Vladimir Ponevezhskiy told RIA Novosti that upon taking effect, his verdict would prohibit Navalny from participating in any elections, ever again.
The regional budget is estimated to have suffered the loss of 16 million rubles ($514,140) as a result. In May, however, Kirov Governor Nikita Belykh testified to the contrary in court that he had no grounds from which to conclude that Navalny's actions as his advisor had in fact caused damage to the region's economic interests and budget. Belykh stipulated however that he could not speak on the point in his official capacity, "because we have not examined the issue."
In July Navalny submitted documents to become registered as a mayoral candidate in Moscow, which will hold snap elections on September 8. A spokesperson for the Moscow City Election Commission Commission told RAPSI on July 12 that if convicted of the Kirovles embezzlement, Navalny's name will be removed from the mayoral candidate list.
In addition to the Kirovles embezzlement case, investigators have opened three other criminal cases against Navalny, on charges of embezzlement from a political party, deceiving an international cosmetics company, and illegally conspiring to privatize a central Russia distillery.