Navalny defense team plans to appeal embezzlement verdict this month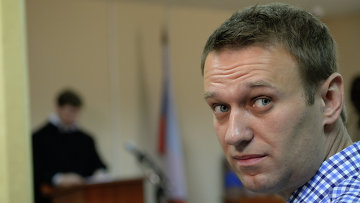 17:35 18/07/2013
MOSCOW, July 18 (RAPSI) - Defense attorneys for opposition activist Alexei Navalny – who was convicted and sentenced Tuesday for large-scale embezzlement –and his co-accused Pyotr Ofitserov have received copies of the verdict against their clients, and plan to appeal the decision before the end of July, Navalny's attorney Vadim Kobsev told RAPSI Thursday.
Under Russian law, a verdict should be appealed within 10 days after the defense has been provided with a copy of it. It only becomes final after the appeal has been decided.
The Leninsky District court in Kirov Thursday sentenced Navalny, a renowned opposition activist and Moscow mayoral hopeful, to five years in prison for embezzlement.
His co-accused Pyotr Ofitserov received a four-year sentence, and the two were held liable to pay a one million ruble fine between them.
Navalny was taken into custody on the spot after his sentence was announced, asking as he prepared to be led away if he could bid farewell to his parents first. Ofitserov was detained as well. His wife was in tears, though Navalny's wife maintained a more stoic demeanor.
Once Navalny's verdict enters into force, his political aspirations will be finished. State Duma representative to the Supreme Court Vladimir Ponevezhskiy told RIA Novosti that upon taking effect, his verdict would prohibit Navalny from participating in any elections, ever again.
According to investigators, while serving on a voluntary basis as an adviser to the Kirov region governor, Navalny organized the theft of over 10,000 cubic meters of timber. It was allegedly stolen from Kirovles company between May and September 2009 in collusion with Vyatka Timber Company Director Pyotr Ofitserov and Kirovles CEO Vyacheslav Opalyov.
The regional budget is estimated to have suffered the loss of 16 million rubles ($514,140) as a result. In May, however, Kirov Governor Nikita Belykh testified to the contrary in court that he had no grounds from which to conclude that Navalny's actions as his advisor had in fact caused damage to the region's economic interests and budget. Belykh stipulated however that he could not speak on the point in his official capacity, "because we have not examined the issue."
In July Navalny submitted documents to become registered as a mayoral candidate in Moscow, which will hold snap elections on September 8. A spokesperson for the Moscow City Election Commission Commission told RAPSI on July 12 that if convicted of the Kirovles embezzlement, Navalny's name will be removed from the mayoral candidate list.
In addition to the Kirovles embezzlement case, investigators have opened three other criminal cases against Navalny, on charges of embezzlement from a political party, deceiving an international cosmetics company, and illegally conspiring to privatize a central Russia distillery.